AAMU's Landmark 50th Anniversary Book Available
Copies of Alabama A&M University's 50th Anniversary Commemorative Book are available while supplies last. The edition is packed with historical data and photos, all capturing the eventful years from 1969-2019, while culminating with the 50th anniversary of the school's designation as a "university."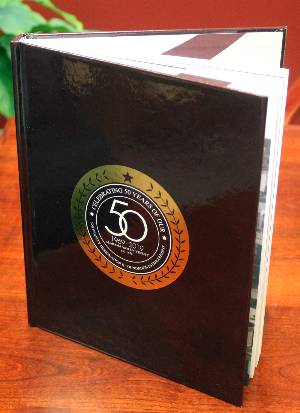 The book features institutional history and leadership, how AAMU was shaped by the Second Morrill Act of 1890, and proceeds to show AAMU's steady growth as an institution under the presidents with in the 50-year period.
The book also features members of the distinguished Normal Legacy Society, a philanthropic organization of AAMU's most generous financial contributors; the impact of the Bulldog Pride Committee, founded by First Lady Abbiegail Hugine; and accomplishments of the first 10 years of the administration of Dr. Andrew Hugine, Jr. (2009-Present).
For Questions regarding the commemorative book ($50 plus tax), please contact Dr. Malinda Swoope at (256) 372-5230.
Purchase the 50th Anniversary Book