Events
Spring workshops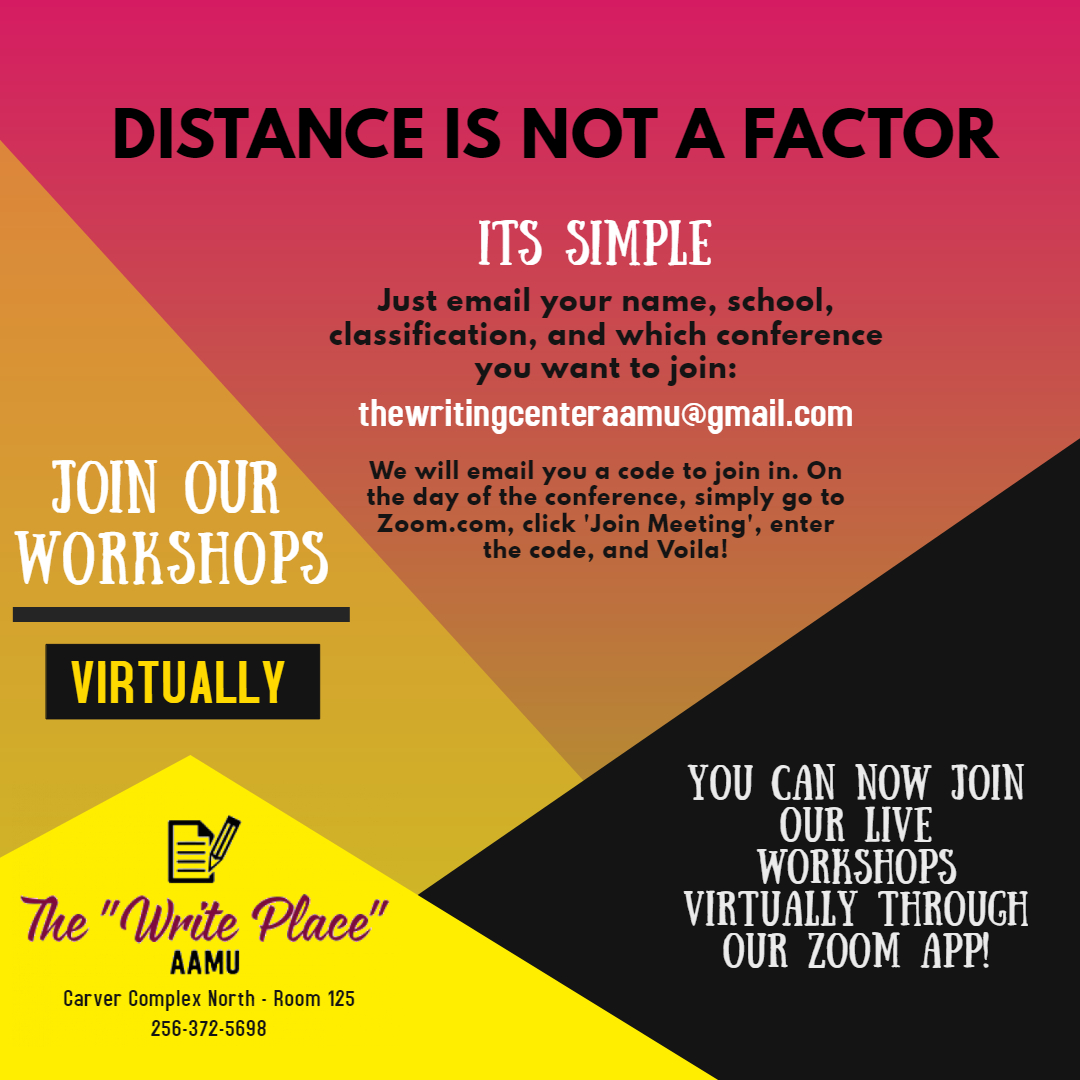 You can join our workshops remotely through our Zoom app! Just call us at 256-372-5698 or email us at thewritingcenteraamu@gmail.com to request the code for meeting access.
Wednesday, January 22, 2020 12:00pm-1:00pm"On that Note"- Note-taking and Organization - Good notes could be the difference between passing and failing! Learn note-taking skills that will ensure academic success!
Tuesday, January 28, 2020 12:30pm-1:30pm"Trust the Process"-The Writing Process- When you have to write, but don't know where to start!
Wednesday, February 5, 2020 12:00pm-1:00pm"The Write Source"- How to do research and documentation
Wednesday, February 12, 2020 12:00pm- 1:00pm


"The Good, the Bad, and the Ugly: Love Poems to Dazzle Your Darling"

Tuesday, February 18, 2020 12:30pm- 1:30pm
How to find Library Resources -F

ind out how to access the best sources in the library's online databases

.
Tuesday, February 25, 2020 12:30pm- 1:30pm
How to do Literary Analysis!
Wednesday, March 11, 2020 12:00pm- 1:00pm
"The Write Words" - How to write resources and personal statements
Tuesday, March 17, 2020 12:30pm-1:30pm
"Take Your Seat at the Table"- A writer's roundtable- Learn from other writer's about their creative processes!
Get it Write- How to do APA/MLA/ASA style for formating-Learn how to cite according to the required style -TBA
All events are hosted at The "Write Place" located at 125 Carver Complex, Hollins Wing.