April Scholarships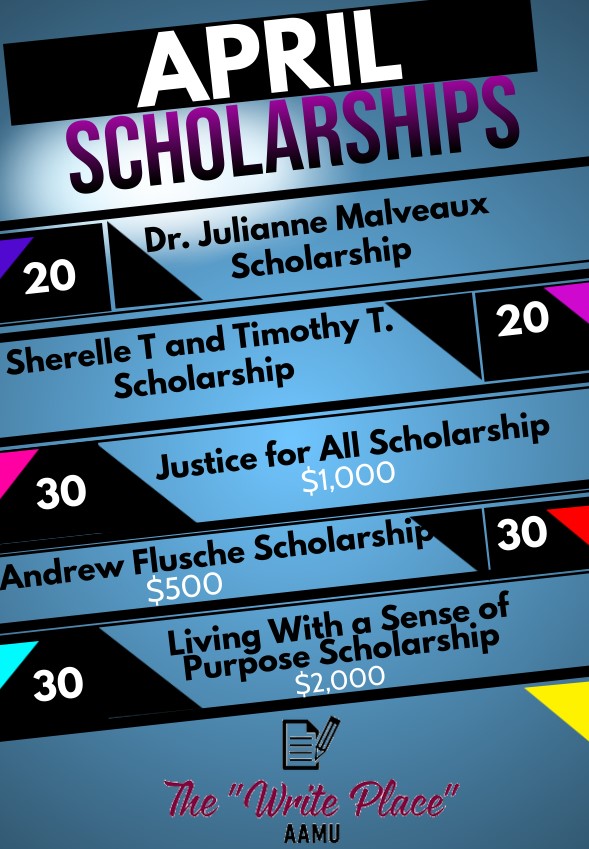 April 05, 2021
April 2021 Scholarships
Let April shower you with scholarships!! The Write Place has compiled a list of scholarships for you. By clicking the names of each scholarship listed below, you will be linked to the respective website to learn more about these opportunities.
Dr. Julianne Malveaux Scholarship
Description: Applicants must submit a 500 word essay. Topic: Your career plans and their relevance to Dr. Julianne Malveaux's Program Theme: "Black Women's Hands Can Rock the World".
Deadline: April 20, 2021
The Sherelle T. And Timothy T. Carper III Legacy Scholarship
Description: "In reflecting on the work environment of the three women portrayed in the movie, Hidden Figures, please explain how you believe that today's African American women are being given equal treatment in the workplace in recognition of her unique abilities and motivation."
Deadline: April 20. 2021
Living with a Sense of Purpose Scholarship
Description: To be eligible for this scholarship the applicant must be at least currently enrolled in an academic program this includes current high school seniors and college students with plans to continue their education in the fall of 2021. They must also have maintained a 3.0 or higher GPA in school.
Award Amount: $2,000
Deadline: April 30
Description: he 2021 Justice For All Scholarship will reward one individual with $1,000 who best explains a situation where they persevered through hardship and served justice in one way or another.
Award Amount: $1,000
Deadline: April 30
Description: the Andrew Flusche Scholarship Contest requires students to raise awareness about different legal issues. Applicants must create a public service advertisement video (PSA) about how to drive courteously.
Award Amount: $500
Deadline: April 30