APRIL SCHOLARSHIPS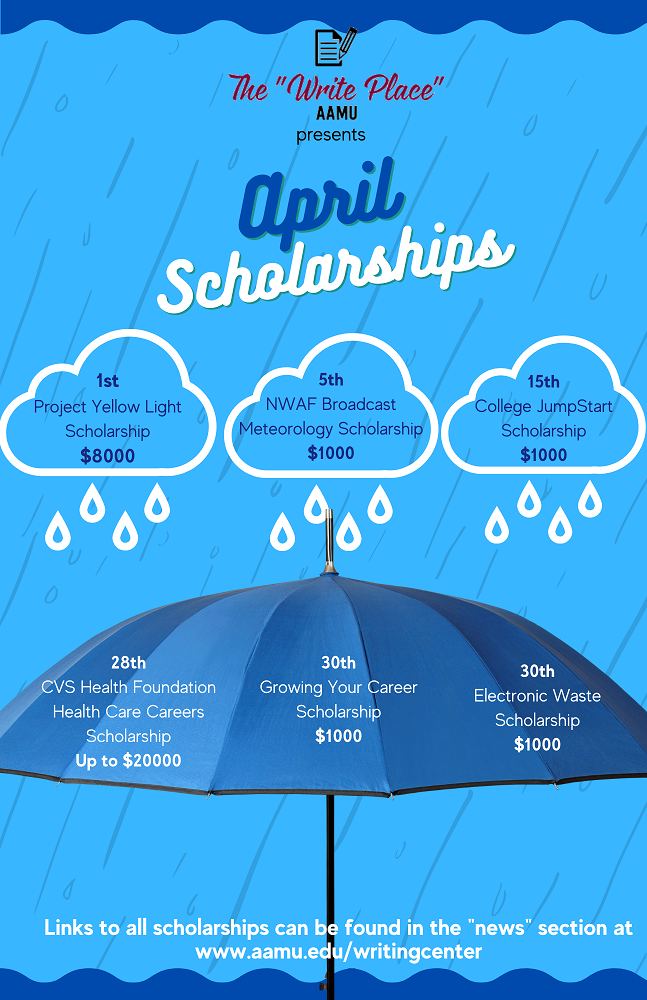 March 22, 2022
APRIL SHOWERS BRING SCHOLARSHIPS!
Need money for school? Click on the title of each scholarship below to apply!
Title: Project Yellow Light Video Design Scholarship
Description: Project Yellow Light is a scholarship competition designed to bring about change by having applicants create a PSA to encourage friends to avoid distracted driving. Open to all majors and classifications.
Award Amount: $8000
Deadline: April 1st
Title: NWAF Broadcast Meteorology Scholarship
Description: This scholarship is offered to students in their sophomore year or higher of undergraduate study, or in graduate study, enrolled in a program of meteorology or atmospheric science (or related field). This covers qualified education expenses such as tuition, fees, and course-related expenses such as books, supplies, and equipment. Applicants must have one or more semesters to complete after the scholarship is awarded.
Award Amount: $1,000
Deadline: April 5th
Title: College JumpStart Scholarship
Description: Open to all majors and classifications. The main requirement is that you are committed to going to school and can express your goals for getting a higher education.
Award Amount: $1,000
Deadline: April 15th
Title: CVS Health Foundation Health Care Careers Scholarship
Description: Applicants must be second-semester sophomores at the time of application who will be juniors at the time of the initial award, be Black or Latinx students enrolled full-time at any accredited four-year college or university in the U.S., have a minimum 3.0 GPA, have completed the FAFSA form, have an unmet financial need as verified by the student's college or university of enrollment, and be pursuing a major in pharmacy, nursing, business management, biology, biochemistry, finance, operations/supply chain, data analytics, information technology, actuary, or human resources with an interest to pursue a career in the health care sector.
Award Amount: Up to $20000
Deadline: April 28th
Title: Growing Your Career Scholarship
Description: Applicants must be students at an accredited college or university who are pursuing an agricultural major or minor and have completed 10 hours of community service in the past year. Open to all classifications.
Award Amount: $1,000
Deadline: April 30th
Title: E-Waste Scholarship
Description: The purpose of this scholarship is to help you understand the impact of e-waste and what can be done to reduce e-waste.You must be a current or entering college or graduate school student of any level. You must also be a U.S. citizen or legal resident. Open to all majors
Award Amount: $1,000
Deadline: April 30th