Why You Should Be an English Major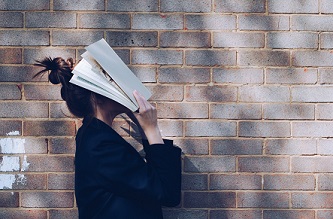 October 10, 2019
Why You Should Be an English Major by Daysha Butler
Many people believe that majoring in English is not wise because "there are no job opportunities"; however, that is far from the truth! Majoring in English is an excellent gateway to find phenomenal jobs and/or pursue a master's degree. "Is the only job I can get with an English degree teaching?" you may ask. The answer is certainly, "no!" Yes, teaching is an excellent career for those who want to do it, but of course not everyone wants to teach. There is a wide variety of career paths for those who want to major in English!
Editor: Majoring in English provides you with the skills you need to become an editor. Many companies, such as newspapers, corporations, and publishing companies, hire editors.
Public relations specialist: Many jobs that people with public relations degrees can get hired for, people with English degrees can also get hired for. This is because those with an English degree learn to communicate effectively, verbally and in writing. Being able to communicate well is a skill that is needed in almost every job.
Journalist: Companies, such as newspapers, hire people with an English degree to be journalists.
Teacher: For those who do want to teach, teaching English is certainly an option. In order to teach middle or high school, those with an English degree would also need a teaching certification. If one wanted to teach English at the collegiate level then they would need a master's or doctorate in English.
Technical Writing: Many companies hire technical writers, a job that pays well and is widely available in cities that offer many technical jobs (such as Huntsville, Alabama!). It is written in an article on truity.com that technical writers prepare manuals and other documents to make technical concepts easier to understand for the general public (truity.com).
Author: Those with English degrees learn to communicate effectively in writing, and therefore, make excellent authors.
Other: There are many other jobs available for those who have a degree in English. For example, when I graduated with my English degree, I was hired on at a community college to be the tutoring director of one of their tutoring programs. In this position I was the direct employer of the tutors, running the tutoring program, promoting the tutoring services, completing paperwork, and much more.
Grad school: Majoring in English is an excellent undergraduate degree for those who want to get a master's degree (or other graduate level degree) in a variety of fields, such as law, psychology and speech-language pathology.
These are just some of the many opportunities that having an undergraduate degree in English can lead to. As you can tell, there are many job opportunities and graduate school opportunities for those people who have an English degree. If you are looking to become an excellent communicator, develop skills that will benefit you for life, and have excellent opportunities, consider majoring in English!
Editor's Note: English majors are in demand in the world of social media as content editors and creators. In additions, the English major is a great foundational degree that pairs well with many undergraduate and graduate programs, opening pathways to numerous career opportunities. English majors can:
minor in history or political science and go into law or politics
minor in a foreign language and get work as interpreters, writing translations, or in any number of global arenas.
minor in biology or chemistry--you'll be an excellent candidate for medical school
minor in Business --then go for an MBA or start your own company!
"Technical Writer." Truity, 19 June 2018, https://www.truity.com/career-profile/technical-writer.