ALABAMA A&M UNIVERSITY MOBILE HEALTH CLINIC (AAMU MHC)
Provides FREE testing of preventive care services to underserved
communities in all of the State of Alabama. Anyone is eligible.
OUR SERVICES INCLUDE
Access to general health care
Free women's health screening clinics
Immunization clinics for children and adults (Patients below 18 years old should be accompanied by their parent/guardian. All COVID-19 diagnostic tests are done using nasal and oral swabs.)
Routine screenings such as cholesterol, glucose, height/weight, blood pressure, lung function, bone density and more
Education for preventable and manageable diseases
Corporate Testing
Free primary care clinics for community members who are uninsured or underinsured
Statewide disaster relief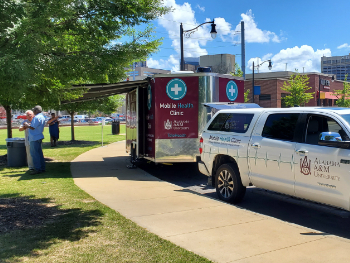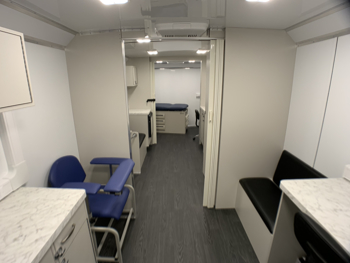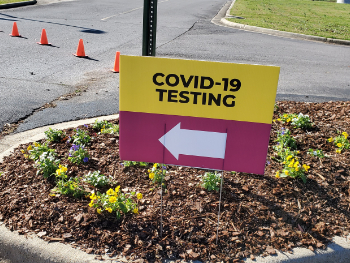 The mobile clinic is the result of a University Challenge Grant supported by Toyota Motor North America (TMNA). Initially, the student-led project was to address mobility issues in local communities in Northern Alabama, and the campus population in Normal, Alabama. Toyota provided grant funding and Toyota Way training to support the student-led program, where assessments and research were conducted to determine the need in economically challenged communities, and develop a solution.
With the onset of the COVID-19 pandemic, testing needs became essential, so AAMU allocated and transferred a portion of its Toyota funding to Huntsville Hospital Foundation (HHF) to help support the cause. Huntsville Hospital continues to offer clinical services and training for AAMU students and other volunteers in support of the program with continuous testing events locally.
The AAMU Mobile Health Clinic will continue to work collaboratively with all other health service providers, to address COVID-19 response in the region with additional funding. As the pandemic continues to impact rural communities, and access to the vaccine is challenging for rural locations, the AAMU Mobile Health Clinic represents a potential solution. Mainly, for those communities in the rural regions around the state of Alabama.
AAMU & Huntsville Hospital Mobile Medical Clinic offer Outreach Programs by providing mobile medical facilities optimized for on-site delivery of mobile healthcare services. AAMU Mobile Health Clinic is equipped according to US and healthcare codes, with the latest medical technologies and medical supplies. We provide services to those unable to access healthcare due to a lack of transportation or adequate financial resources.

Why is the AAMU MHC vital to the community?
Community health screenings are an excellent way to raise awareness about common diseases. In some situations, health screenings can detect problems early, when chances for successful treatment are greatest. The full benefit is realized when patients take the next step – consulting with a physician for diagnosis and treatment.
Our staff includes: Board certified nurse practitioners, Physicians, Registered nurses, Huntsville Hospital professionals and a team of dedicated volunteer health care providers.
Many of our staff members are bilingual in English and Spanish.