Bus Tour
Alabama A&M University President Andrew Hugine, Jr., and First Lady Abbiegail Hugine departed the Huntsville campus at noon on Sunday, February 18, enroute to Mobile, Ala., to launch the statewide 2018 Scholarship Recognition & Promotional Tour.
Throughout the sixth annual venture, the President and First Lady, along with students, faculty, staff and alumni will present scholarships to students at some 50 high schools. The schools are in the vicinities of Mobile, Ala./Monroe County, Birmingham, Tuscaloosa and the Black Belt, Montgomery/Selma, and Anniston/Gadsden. The bus tour will conclude with a welcome back program on the AAMU Quad on Friday, February 23, at 3 p.m.
DAY ONE
Monday, February 19
Mobile/Monroe County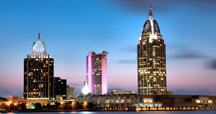 The first high school on the 2018 route is the 8:30 a.m. visit to Vigor High School in Mobile, which also will serve as a host for LeFlore High School. At 9:45 a.m., additional scholarship presentations will be made at host site W.P. Davidson High School for students at Davidson, Murphy and Williamson high schools. The team is scheduled to visit Mattie T. Blount High School at 1:30 p.m. before departing at 2:15 p.m. for Birmingham.
DAY TWO
Tuesday, February 20
Birmingham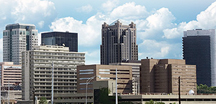 The President and his team will start its scholarship fest in the Magic City on Day Two with a 45-minute, 9 a.m. visit to Ramsey High School. That schedule continues at Parker High School at 10:15 a.m. Parker will host students from Carver and Wenonah high schools during a 30-minute presentation. At 1 p.m., Fairfield High School will be the host site for scholarship recipients from Restoration Academy and Minor High School. Jackson Olin High School will be the host site at 2 p.m. for its students and scholarship recipients from Holy Family High School. Following the presentations at Jackson Olin, the team will depart for an overnight stay in Tuscaloosa at the Hampton Inn.
DAY THREE
Wednesday, February 21 Tuscaloosa and the Black Belt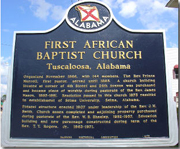 On its trek through Tuscaloosa and the Black Belt region, the team will start Day Three at Paul Bryant High School at 8:30 a.m. Team members at 9:30 a.m. will then visit Central High School (formerly Tuscaloosa High School), which serves as the host site for scholarship recipients representing Pickens County High School, Gordo High School, Aliceville High School and Greensboro High School. A return to Birmingham area will allow the scholarship squad to meet students at 1:15 p.m. at Huffman High School, which is slated to host students from Pinson Valley High School, Tarrant High School and Centerpoint High School, before settling for the evening in Montgomery, Ala.
DAY FOUR
Thursday, February 22
Montgomery & Selma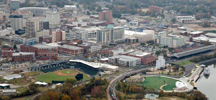 Day Four is literally loaded with scholarship presentations, beginning at 8 a.m. with a 90-minute program at Sidney Lanier High School in Montgomery. Sidney Lanier also will serve as the host site for presentations for students from Robert E. Lee, Jeff Davis, Brewbaker, Booker T. Washington (Montgomery and Tuskegee), Loachapoka, George Washington Carver, Park Crossing, Billingsley and Bullock high schools. At 10:45 a.m., team members will Southside High School, which will host Central, Calhoun, Sumter Central, Greene County, Keith, Francis Marion, R.C. Hatch and Dallas County high schools. After a lunch break, it's on to Selma High School to also meet future Bulldogs from Wilcox Central, Marengo and Linden high schools. The bus will then continue to Anniston, Ala., for an overnight stay.
DAY FIVE
Friday, February 23
Anniston/Gadsden
Rise and Shine! Bulldogs take on Anniston High School at 8:30 a.m., also welcoming Oxford High School. The team will make its final presentation at Gadsden High School to students at Gadsden High and Etowah County High School.
The Hugines and company are scheduled to return to campus for a Welcome Back celebration at 3 p.m. on the Alabama A&M University campus Friday, February 23.