Office of the President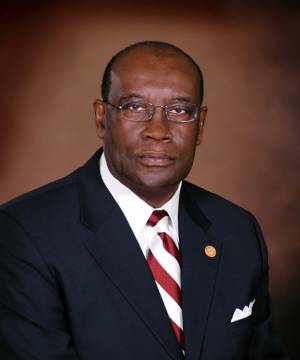 Thank you for allowing me to serve as your eleventh President. I proudly became part of the Alabama A&M University family in July 2009 after a 30-year affiliation with South Carolina State University, most notably as its President. As Alabama A&M University's eleventh President, I joined a distinguished group of administrators who have served since the University's founding in 1875. I am also pleased to say that the University has made some major strides forward under my presidency. My wife Abbiegail and I are happy to live in Huntsville and the Tennessee Valley, one of the loveliest, most dynamic regions of our country.
Alabama A&M University is committed to academic excellence, scholarly advancement and service to society. Our students are our priority. Students thrive here at AAMU and are positioned to succeed throughout life. Here at Alabama A&M University, our students can "Start here, and go anywhere."
Our student body is co-educational and diverse racially, ethnically and religiously. We have an excellent faculty, and our campus boasts a number of state-of-the-art facilities to enhance our living and learning environments. We have an impressive graduate program as well, offering technical, professional and scholastic skills and competencies in teaching, research, and public service, including extension. We provide our graduates with marketable skills that are among the nation's best.
Alabama A&M University has its roots in the traditional land-grant institution, combining professional, vocational and liberal arts pursuits with a flexible schedule of day and evening classes and distance learning. AAMU also provides opportunities for interaction among industry, government agencies, Alabama institutions and the University's various schools. The University is a major research center for large companies, foundations, and state and federal agencies.
Please visit us in person or view our campus and explore our website to find out what makes Alabama A&M University unique. We want to help you discover how we can best serve you. We want you to be a part of the Alabama A&M family, too.
Dr. Andrew Hugine, Jr.
President, Alabama A&M University