Alumni of the Year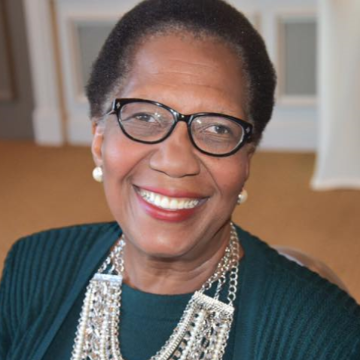 2019 – 2020 Alumni of the Year Award was presented to Alumna Sarah H. Williams Hrobowski.Mrs. Sarah H. Williams Hrobowski is a native of Mobile, Alabama. She pursued undergraduate studies at Alabama A&M University and earned the Bachelor of Science degree in 1964 with a major in home economics and a minor in general science. Later, she earned the Master of Science degree in secondary school administration at Centenary College of Louisiana.
Throughout her career in education, she gained valuable experience as a teacher and administrator. Her educational career track afforded her the opportunity to teach internationally in Izmir, Turkey, and nearly every region in the United States. While employed with the various educational systems, she reached out and mentored others to work at their fullest potentials and to always give back to their institution of learning and the community, which led her to develop her philosophy statement: "In life, if there is not a trail for you to follow− BLAZE ONE."
As an advocate for professional development and personal growth, she has coordinated and conducted numerous seminars and workshops on etiquette essentials, manners and protocol for high school students and healthy aging workshops for seniors. She is an active member of several professional, civic and community organizations, where she uses her talents and skills to add value to the mission of the organizations. Some of her affiliations include: member, State Street AME Zion Church in Mobile, Alabama, where she and her husband coordinate the Church Food Pantry; past district director of adults, Jackson District Christian Education Departments; member, advisory board, Gulf Coast Challenge, member, advisory board, Kiwanis Boys and Girls Club, Mobile, Alabama; and member, Delta Theta Omega Chapter, Alpha Kappa Alpha Sorority, Inc.
In recognition of her exemplary work and dedicated service to humankind, she has been the recipient of countless honors and awards, including Teacher of the Year; Class of 1964, Class Achievement Award; William Hooper Councill Service Award; and President's Citation, Alabama A&M University Alumni Association, Inc.
Mrs. Hrobowski is a dedicated and supportive alumna of Alabama A&M University and the Alabama A&M University Alumni Association, Inc. Presently, she serves as the president of the Mobile Alumni Chapter, where she works untiringly to ensure that the chapter members are engaged in the recruitment of students and fundraising efforts of the University. She is married to James R. Hrobowski, Jr., and they have one son, Eric P. Sutton.