Campus Safety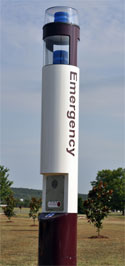 Welcome to "THE HILL" where service is sovereignty! The Public Safety Department exists to provide a quality service derived from the expectations of the Alabama A&M community and our own dedication to excellence.
Although the Department of Public Safety is the primary department at the University charged with creating a safe and secure environment, this task is not one we can accomplish alone. Crime prevention, risk identification, and problem solving are the responsibilities of everyone on this campus. Our efforts to maintain a safe and secure environment rely on our ability to develop collaborative relationships with the many communities that make up the University. We believe that through partnering and problem solving, we can make Alabama A&M one of the safest universities in the nation.
Our use of strategies, based on a commitment to the philosophy of community and problem-solving policing, began last year and has already reaped tremendous benefits here on campus. Some of these successes can be found on our webpage and in our Annual Security and Fire Report. We will soon introduce more proactive strategies and programs that will increase our community engagement efforts and enhance the quality of life here at A&M. We ask you to join us in safety efforts by becoming informed and using good judgment because we want your experience here on "The Hill" to be rewarding, fun, and safe.
If you need us or desire further information please do not hesitate to contact us – we are here to serve you!
Contact Us
Department of Public Safety
Phone: 256-372-5555
Fax: 256-372-8336
University Services Bldg.