AAMU Portal 3.0
The AAMU Portal/Mobile App 3.0 powered by Path comes with the most commonly used features to help provide a useful experience from day one. Plus, with sophisticated web/mobile parity, users can access their portal (and all the vital information it contains) from any device.
Features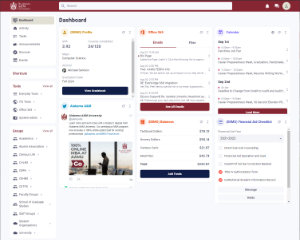 The portal homepage is a customized view that surfaces the most important information based on user roles, everyone always see exactly what they need to right away. Users can choose from a widget-based dashboard or a social media inspired activity feed.
Users can further personalize their experience by pinning shortcuts to their favorite pages, tools and services for easy one-click access. The dashboard aims to provide an intuitive experience, one that actually helps them succeed.
Widgets
Widgets provide a quick at a glance view in to your most used services at AAMU. Below are a few of the widgets that will launch with the Portal 3.0 and others will be rolled out as they are developed.
User Profile
Pull important information like major, GPA, course completion tracking, advisor info and more into your portal directly from Banner.
Email
Pulls emails and files into Path so everyone can see their messages right away.
Calendar/Events
From campus-wide happenings to events for specific groups or interests, everyone sees a highly personalized calendar so they don't get buried by overwhelming and irrelevant information.
---
Twitter
Stay up to date with the latest AAMU tweets.
Courses
Shows each student their courses and important course-related milestones like due dates and grades.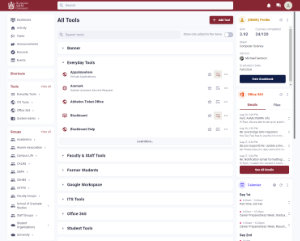 The number of systems, apps and tools necessary for today's higher ed experience is crazy. Remembering how to log into each of these important tools takes doctorate-level smarts.
Path lets you surface the right tools to the right users at the right time. You decide what tools show up based on user roles. From there, users can personalize their experience by configuring their Tools view and favoriting their most visited systems.
Tool Examples
ITS Submit a Ticket
Bulldog Alerts
Virtual Lines
Pay Online
Online Forms
Office 365
Doodle
Blackboard
Navigate
Degreeworks
Banner Self-Service
Google Workspace
Handshake
Final Exam Schedule
Zoom
There are times when you absolutely need to get important information in front of the right people, but breaking through the noise can be difficult, especially when students and staff are inundated with announcements that may or may not apply to them.
Announcements
Surface important alerts to specific user groups at the top of their main view. Path integrates with your emergency alert system to help spread your most important alerts ASAP.
Notifications
Users see a familiar notifications alert icon when they log into their portal, naturally grabbing their attention. Because Path offers a native mobile app, you can take advantage of mobile push notification capabilities.
Tasks
Whether you're a student, faculty or staff, everyone has a million things to do. Keeping it all straight and making sure everything is done on time is a challenge in a college setting. Path Tasks surfaces the most pressing needs and keeps everything on track, no matter which system the task originates from.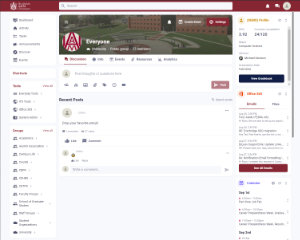 We all know students create their own social media groups for easier collaboration. Now you can give students, faculty and staff the same great functionality in your controlled Path environment. Like most social platforms, Path is device agnostic — so they can connect from anywhere.
Groups aren't just for socializing. Create a hub of interest where users can post relevant links, share files and videos, conduct polls, chat, comment and more. Groups can be as broad (Sophomore Class) or as granular (a capella fans from Ohio) as you and your students want.
Group Examples
Distance Education and Extended Studies
Freshman Academy
Honors Program
Tutorial Assistance Network
Writing Center
Alumni Association
Career Development
Colleges and Academic Departments
Faculty Senate
Center for Instructional Technology
Staff Senate
Stuent Government