Board Members
Governor Kay Ivey
President
Governor Kay Ivey was sworn in as the 54th Governor of the State of Alabama on April 10, 2017. She is the state's second woman governor. The first was Lurleen Wallace, wife of former Alabama Governor George Wallace, who became governor in 1967.
Ivey is a state government veteran. She ran for governor in 2010 before switching and winning the race for Lieutenant Governor. She was re-elected in 2014. In 2002, Ivey became the first Republican elected State Treasurer since Reconstruction and was re-elected in 2006. In 1982, Ivey ran unsuccessfully for State Auditor as a Democrat before working for the state's education commission for more than a decade.
Before entering public office, Ivey worked on her family's cattle farm in Camden, Ala. She graduated from Auburn University in 1967 and worked as a high school teacher and bank officer after graduation. Ivey left banking to serve in the cabinet of then governor, Fob James.
---
Dr. Roderick Dewayne Watts
President Pro Tempore – District 4
Dr. Roderick D. Watts is a naturopathic doctor and a 1986 graduate of Tuskegee University with degrees in biology and chemistry. Dr. Watts is a Certified Natural Health Professional (CNHP). He also graduated from Trinity School of Natural Health and the Loomis Institute of Digestive Health in Madison, Wis. Dr. Watts has traveled extensively both domestically and internationally.
His memberships and affiliations are with The Etowah County Department Of Human Resources – Board Member; The Gadsden City Board of Education – Board Member; Kappa Alpha Psi Fraternity Inc.; Sigma Pi Phi Fraternity (The Boule'); Kappa Kappa Psi Honorary Band Fraternity; and The Aircraft Owners and Pilots Associations.
Watts is an author, a licensed pilot, inspirational speaker, and lecturer on numerous topics, with a concentration on health and wellness. He is married to Ms. Gloria Watts, and they have two children.
---
Mr. Kevin Ball
Vice President – District 1
Kevin Ball is currently employed as the Director of Operations for Ball Healthcare Services. Ball is an experienced healthcare professional with proven project management abilities that have supported company growth and development. He has worked in the healthcare industry for over 20 years.
His civic service includes his membership within the Alabama Nursing Home Association, where he currently serves on the Executive Board and as a Regional Director. He recently has served as the Chair for both the Regional Advisory Board for the Alabama Institute for the Deaf and Blind (AIDB) and the Alabama Board of Examiners.
Ball completed his Master of Science degree from the University of North Texas in long-term care administration. His Bachelor of Science degree was obtained in business administration at Alabama A&M University. Ball is a founding member of the Western Area Economic Development Council for the City of Birmingham and is a sitting member of the University of Alabama Birmingham Healthcare Management Advisory Board. He also donates time to his community by coaching Little League football and baseball with multiple parks in the Birmingham area. He is a proud member of Omega Psi Phi Fraternity, Inc.
---
Attorney Tiffany Johnson Cole
Secretary to the Board – District 3
Tiffany Johnson Cole is an attorney with the Law Offices of Robert Simms Thompson, PC in Tuskegee, Ala. She handles cases in the areas of automobile products liability, negligence, wrongful death, trucking litigation, fraud, and breach of contract. Tiffany made history when she became the first female to be appointed as Municipal Court Judge in the City of Tuskegee and the Town of Jackson's Gap, Ala.
Tiffany received her Bachelor of Arts degree in Psychology from Spelman College and her Juris Doctorate from Cumberland School of Law at Samford University. She is licensed to practice law in Alabama and Georgia.
Tiffany recognizes that too whom much is given, much is required and therefore spends a great deal of time in service to others. She is a member of the North Florida Child Development Center Board. She is a member of Delta Sigma Theta Sorority, Inc. where she serves as the Alabama Social Action Co-Coordinator. She is a member of the Alabama State Bar Association, Alabama Association for Justice, Macon County Bar Association, Alabama Lawyers Association, the Links Incorporated, and Jack and Jill of America. Tiffany was recognized as one of the most influential persons in Macon County.
In her spare time, she enjoys traveling, reading, horseback riding, and shopping.
---
Mr. Richard Crunkleton
Executive Committee Member – At-Large 3
With over 33 years of experience in commercial real estate, Richard Crunkleton is originally from Louisville, Kentucky, where he studied civil engineering at the University of Kentucky. He is also the founding member of Crunkleton: Commercial Real Estate Group.
A member of the Certified Commercial Real Estate Institute, The North Alabama Commercial Brokerage Association and a licensed broker in Alabama, Mississippi and Tennessee, Crunkleton traces his beginnings in commercial real estate to a period when he started buying value added properties, renovating them, adding tenants and then selling the properties for a profit.
An active member of the local Huntsville community since 2001, he serves as the chairman for both The Huntsville Museum of Art and the Mayor's Advisory Council for Cummings Research Park.
When he is not working or spending trends in the commercial real estate market, Crunkleton can most often be found on his small farm in Tennessee, woodworking, or spending time with his wife Nancy and his sons Michael and Wesley and their respective families.
---
Mr. John Hackett, Jr.
District 7
A native of Birmingham, Ala., Mr. John Hackett, Jr., CEO of J.H. Jr. & Associates, LLC, earned his baccalaureate degree from Alabama A&M University in building construction engineering. He taught woodworking for the Birmingham and Vestavia school systems for approximately seven years. He went on to receive certifications in park and recreation maintenance management, as well as master maintenance from North Carolina State University. While attending the University of Alabama, he was able to complete certificates in maintenance management and master maintenance management.
Hackett's career spans over 35 years of service to the City of Birmingham, the Housing Authority Birmingham District (HABD), and Alabama Power Company. By holding various positions within the companies, he was able to master many skills that include, but are not limited to, planning, streamlining, organizing, maintenance, construction, purchasing inventory management, warehousing, and administrative techniques.
The member of the Alpha Phi Chapter of Omega Psi Phi Fraternity, Inc., is a past president of the Alabama A&M University National Alumni Association. He and his wife of nearly 45 years, the former Lila Morgan, are the proud parents of four, grandparents of seven, and great-grandparents of five.
---
MRs. Ginger Harper
District 5A
Ginger Harper serves as Senior Vice President, Private Banking & Retail Market Manager for First Horizon in Huntsville, Alabama. In her role, she is responsible for lending, investment strategies, trust and financial planning for the Huntsville market. With over 21 years of experience, Ginger focuses on providing comprehensive financial solutions and offers unparalleled service to high net worth clients as well as leading the Bank's retail franchise in Huntsville. While her primary role is leading Private & Retail Banking, she also manages events and corporate sponsorships, serves as the Community Reinvestment Act liaison and works to ensure First Horizon has maximum visibility and exposure in the market.
Ginger graduated from Athens State University where she obtained a B.S. in Business Management. She is also a graduate of Leadership Connect Huntsville Class 7, Leadership Flagship Class 25 and the 2014 Alabama Leadership Initiative; obtained her series 6 & 63 licenses; and completed the Life and Health Insurance Exam.
Ginger has a strong sense of community and has been identified as a proven and effective leader working to advance many non-profit organizations. She currently serves as a member of the Board of Trustees for Alabama A&M University, Chair of the Board of Directors for The Community Foundation of Greater Huntsville, member of the Board of Directors for The Huntsville/Madison County Chamber of Commerce, founding member of the Board of Directors for IWF Alabama Chapter, past Chairman of the Heart of the Valley YMCA, past Board President of HEALS Inc., and is actively involved in various other organizations. Also, in 2017, Ginger was recognized as one of thirty women who are shaping the State of Alabama.
---
Dr. Scherrie Banks Pickett
District 2
Dr. Scherrie Pickett is a native of Midway, Ala., and is currently employed with the Alabama State Department of Education.
Trustee Pickett earned a Bachelor of Science degree in Biology from Alabama A&M University in 1999. She continued her education at Tennessee State University where she obtained a Master of Science degree in Guidance and Counseling. She went on to earn an Education Specialist degree in Instructional Leadership from Tennessee Technological University and her doctorate in Educational Leadership, Policy, and Law from Alabama State University.
She is a member of Narrow Lane Road Church of Christ, Life Member of the Alabama A&M Alumni Association, Bullock County Voters' League, and Alpha Kappa Alpha Sorority, Incorporated--Omega Chi Omega Chapter.
Trustee Pickett is happily married to Mr. Darryl O. Pickett and the bonus mother of Drew Pickett.
---
MS. Nichelle Gainey
At-Large 2
Nichelle Gainey is the president of SilverStone International, a full-service business management firm that provides tailor-made business strategies and critical access for global sports and business clientele.
As the youngest woman appointed to the prestigious 2010 FIFA World Cup Planning Committee, by the chairman of the African Union in 2006, Nichelle was instrumental in coordinating American involvement as well as providing logistical/IT expertise to the newly built stadiums for FIFA's 2010 World Cup in South Africa.
---
Dr. Elizabeth B. Richardson
District 5B
Dr. Beth B. Richardson is a native of Tuskegee, Alabama. She relocated to Huntsville over 22 years ago and has had a successful career in banking. Beth is currently the Madison Market President for United Community Bank formerly Progress Bank. She ensures that all aspects of the Bank's activities obtain maximum profits that correspond with the best interest of the shareholders, customers, employees, and the community. Beth provides the highest level of customer relations and service; monitors customer's changing needs and recommends strategies that utilize her company's products and services.
Her academic achievements include studies at Tuskegee University, Webster University, Huntsville Bible College, and Alabama School of Banking in Mobile. Through these institutions, Beth holds several degrees to include a Bachelor of Science in Marketing; Bachelor of Arts in Theology; a Master of Business Administration with a focus in Finance, a Master of Ministry in Pastoral Studies, and a Doctor of Ministry in Biblical Leadership.
Her civic involvement includes serving on boards for the Huntsville/Madison County Convention and Visitors Bureau, Health Care Authority Board of the City of Huntsville, United Way, Village of Promise, Drake State Foundation, and AAMU Advisory Council to the President. She is an active member of Committee 100, Delta Sigma Theta Sorority, Incorporated and First Missionary Baptist Church.
Beth believes that her greatest achievement is knowing Jesus Christ, who makes all things possible. Each time she has made herself available to lead, God has surrounded her with ample support, love, wisdom, and guidance. As she understands more fully, God's love for her, she becomes more aware of his great love for all people. It is this love that compels her to live and serve others.
---
Mr. Frank Williams
At-Large 1
Frank Williams is a native of Milwaukee, Wis. He currently resides in Madison, Ala. with his wife of two years, Mary. Frank is a devoted father of four wonderful children: Anastasia, Frank Jr, Jewlani, and Orlando.
After completing his academic endeavors, Mr. Williams joined the United States Army to serve his country. Following Mr. Williams' Military career, he took a sales position at a car dealership. After three years of outstanding sales volume, he was given his first management position. Throughout his 28 years of automotive experience, Mr. Williams has always worked hard to exceed expectations.
Currently Mr. Williams is the General Manager and Managing Partner of Landers McLarty Dodge Chrysler Jeep Ram, Subaru, Fiat, and Alfa Romeo in Huntsville, Alabama. Receiving numerous awards over the last several years, most recently his Dodge Chrysler Jeep Ram and Subaru stores were both named #1 Dealership of the Year in Alabama for 2016. Mr. Williams' Dodge Chrysler Jeep Ram dealership is ranked in the Top Ten dealerships in the country.
Frank Williams' philosophy has been branding the community and its people through partnerships, sponsorships and community involvement.
---
Mr. Ralph Williams Jr.
District 6
He is currently the Area Manager for the Birmingham Division of Alabama Power Company. Ralph is a native of Birmingham and has studied at both Alabama A&M and Miles College with a degree in Political Science. Prior to joining Alabama Power in 2011, he worked briefly with the City of Birmingham in 2010.
Ralph was also the executive director of the Georgia State Employees Association for several years. He serves on the board of directors of Urban Impact, The Birmingham Urban League the Railroad Park Foundation, the YMCA of Greater Birmingham, and The Woodlawn Foundation.
Ralph is married to Raquel Morgan-Williams and has two children Morgan and Kiara.
---
Ex-Officio
Dr. Jeanette Jones
President, Faculty Senate
Dr. Jeanette Jones is a specialist in medical mycology who serves as professor of biology at Alabama A&M University. In addition to serving as president of the Faculty Senate, Jones is a thorough researcher, committed educator, and a resourceful leader/mentor. After earning the baccalaureate degree from Fort Valley State University (Ga.), she furthered her education by completing the requirements for master's and doctoral degrees at The Ohio State University in botany and medical mycology.
Throughout a phenomenal career of teaching, research, and service, she immersed herself in the awareness and promotion of the field of biology/pre-med among African Americans nationally, having also served as director of the Center for Biomedical, Behavioral, and Environmental Health Research. As an educator, she diligently taught such diverse subjects as biology, mycology, medical mycology, and introduction to health careers. Her impressive career also includes service as a higher education administrator and a University trustee.
Finally, in her capacity as President of the Faculty Senate at Alabama A&M University, she demonstrates unwavering commitment to the success and professional development of the faculty, as well as serves as an integral force in the ongoing achievements of hundreds of students seeking entry into the STEM professions.
---
SGA President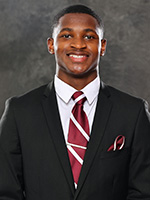 Mike Davis, Jr.
Mike Davis, Jr. is a senior Civil Engineering major from the capitol city of Montgomery, Alabama. He serves as the 2023-2024 Student Government Association Executive President. He also serves as the 2nd Vice President of Collegiate 100. Mike is also a member of the University Echoes student ambassadors, the Honors Program, Game Day Experience Committee, Male Initiative Committee, and NSLS.