About Our President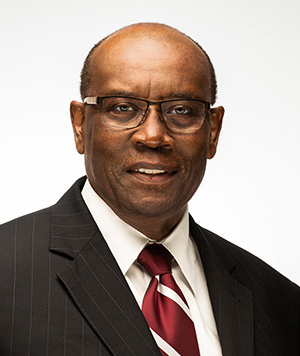 Dr. Andrew Hugine, Jr. (pronounced hugh-guinea) is the 11th President of Alabama A&M University. He earned the bachelor's and master's degrees in mathematics from South Carolina State University and the doctorate in Higher Education/Institutional Research from Michigan State University. He has presented at numerous professional meetings on strategies for increasing the number of minorities in the STEM disciplines and is the author of three mathematics textbooks.
Prior to his appointment at Alabama A&M University he served as President of South Carolina State University. Other positions held included Interim Executive Vice President and Chief Operating Officer; Assistant Vice President for Academic Affairs; Director of Special Services Program; Director of University Year for Action Program—a service-learning program; Research Fellow; Assistant and Director of Institutional Self-Study; Professor of Mathematics; and high school mathematics teacher. Hugine has been recognized both nationally and internationally for his leadership in education and adept administrative skills.
Since his appointment at Alabama A&M, the University's accreditation with SACSCOC has been reaffirmed; the financial status of the university has been strengthened; the university signed a $96 million dollar financing agreement with the U.S. Department of Education, the largest in the Department's history, which was used to refinance existing debt and construct a new 580-bed student residence hall; enrollment has increased by 25.83% since Fall 2012 with Fall 2018 enrollment being 6,108, the Fall 2018 freshman class of 1,521 is the highest in the University's history; ten(10) new academic degree programs have been added; private funding has increased by 68% percent and the university has successfully completed a $27.3 million capital campaign; and more than two dozen memoranda of understanding have been signed with companies, governmental agencies, and universities including one with the prestigious Confucius Institute.
Dr. Hugine and his wife Abbiegail of more than 40 years have an adult son, Andrew Hugine, III, and daughter-in-law Karen; a daughter, Akilah Hugine-Elmore and a son-in-law, Quincy Elmore; two grandsons, Amir and Kal-el; and a granddaughter, Nylah.