AAMU Welcomes New, Innovative RFCU Branch
October 30, 2018
AAMU Welcomes New, Innovative RFCU Branch
Huntsville, Ala. ---- From managing their busy class schedules to maintaining their personal budgets and hectic extracurricular lives—it must be noted that Alabama A&M University students have always been about business.
Now, thanks to some innovation, old fashioned grit and a little Bulldog Pride, the Huntsville campus has become the site of a branch of one of the largest credit unions in the nation.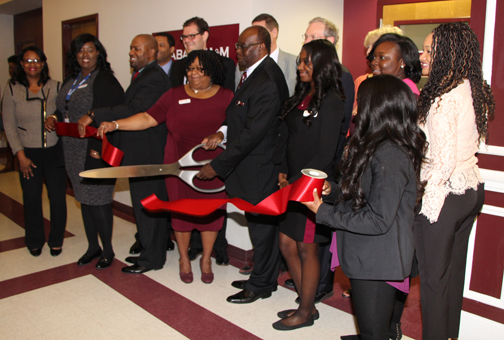 University officials and key representatives from Redstone Federal Credit Union (RFCU), along with the Huntsville Madison County Chamber of Commerce, held a ribbon cutting ceremony Friday, February 16, in celebration of the new campus branch of Redstone Federal Credit Union, its first on a university campus. The event was held inside the Ernest L. Knight Center at 10 a.m.
Among the scheduled program participants were Pammie Jimmar, Chamber vice president for small business and events; Joe Newberry, president and CEO, Redstone Federal Credit Union; AAMU President Andrew Hugine, Jr.; and AAMU RFCU branch manager Wanda Nance, who has served the organization for nearly 25 years.
According to Newberry of RFCU, the branch concept further developed about two years ago following a conversation he had with AAMU President Hugine. He mentioned to Hugine that he was looking at placing a branch on a college campus. "The rest is history," Newberry stated.
"We are glad to be a partner with Redstone Federal Credit Union," said Dr. Hugine. "This partnership represents a year of planning and development led by Dr. Del Smith, dean of our College of Business and Public Affairs."
Hugine said the branch will provide several benefits for AAMU students, including experiential learning opportunities, further support from the proceeds of affinity cards, experiences for marketing students, as well as a source for providing financial literacy so that students can develop into citizens who are good stewards of their resources.
Branch manager Nance is an AAMU alum who still fondly recalls her many fun days (i.e., block parties, football games, etc.) on 'The Hill.'
Nance said she is appreciative of "the opportunity to help college students understand how important it is to keep their finances in order now and how to budget and save for the future."
Although the campus branch will channel all money transactions through its ITM (or Interactive Teller Machine), the branch will perform most services conducted at other RFCU locations, including the opening of new accounts. Full-time staffer Nance will be assisted by four AAMU business students, who will serve in the capacity of member service representatives (MSRs). Another part-timer is a student at a college across town.
MSR and senior business management major Thiera Taylor of St. Thomas, Virgin Islands, enjoys being able to daily interact and connect with different people. "I love the MSR position because there is so much to do, and I'm always learning something new."
Junior accounting major Javonte Martinez likes being able to work around her school schedule. She says she has already learned how credit cards and loans can impact her credit score if not managed properly.
"I've met a lot of faculty members who actually care about my future and career goals," stated Martinez. "AAMU pushes students to try to secure a career before walking across the stage for graduation."
Sophomore accounting major Cristen Hawkins believes her experiences working as an MSR will help her to reach her goal to become a Certified Public Accountant and to obtain her MBA degree.
Branch hours are Monday-Friday from 9 a.m.-5 p.m. The branch is closed when the university is closed. Redstone opened its first "branch in a school" in September 2017 at Hartselle High School in Hartselle, Ala.
With over $5 billion in assets and over 400,000 members, RFCU was listed as the 32nd largest credit union operation in the nation by CUNA.org.
- Jerome Saintjones, AAMU
- Patricia Lloyd, RFCU