Smart Classrooms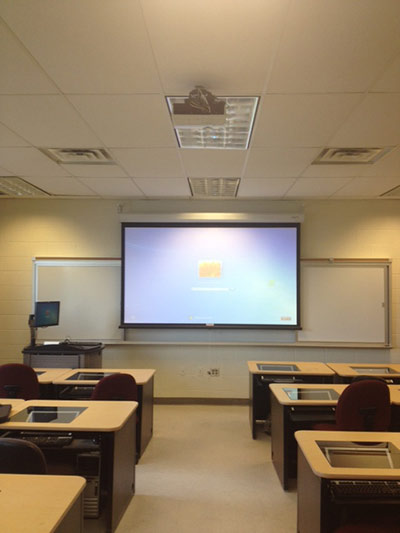 IT Services has launched an initiative to establish smart classrooms throughout the campus. These smart classrooms bring together tools to enhance the classroom environment.
Each of the multimedia smart classrooms have been equipped with a new projector mounted in the ceiling, a projector screen, and Crestron-enabled lecterns with confidence monitors. Each lectern houses a computer workstation and has audiovisual inputs that can facilitate the use of a laptop, DVD player, digital camera, or other media with RCA component connections.
Please refer to the Crestron Control Unit Instructions for an explanation of how to control the various components and features available in the classroom.
There are numerous rooms throughout the campus which have Epson BrightLink Pro interactive projectors installed. These projectors offer versatility along with flexibility since you can extend it's usage beyond basic projector functions.
Use it as a digital whiteboard — Why use a flip chart or traditional whiteboard in your next class meeting? Now you can easily utilize digital tools. Use any wall as an interactive surface to insert images or templates, add new pages to your notes or presentation, and more.
Present, annotate, and edit — Display an existing presentation, annotate on content and make any edits — all with a host of innovative, user-friendly tools. Then save, print or email your notes and content, eliminating the need for time-consuming, post-meeting summary statements.
Go computer-free — Annotate without any device at all by using the built-in PC-free tools.
Tutorials and more
---
Smart Classrooms by Building
LRC
Room 120
Room 121
Computer Lab #1
Room 129 / Multipurpose Room


Elmore
Room 3
Room 4
Room 6
Lecture Room / Auditorium


Bibb Graves
T.R. Parker / New Classroom Building
Room 3
Room 4
Room 106
Room 102


Morrison
Carter Hall
Room 217
Room 204
Room 417


Chambers
School of Business
Room 108
Room 210
Room 305
Room 310
Room 106
Room 208
Room 117 / Auditorium


Health and Wellness Center
Carver Complex North
Room 109
Room 103
Room 212
Room 220