Amenities
A unique combination of amenities, services, and location have made the Agribition Center a leading venue. It has been thoughtfully designed to host a variety of events including trade shows, agricultural events, and everything between.
Arenas
The indoor heated arena floor is 120' x 210' and surrounded by a concrete concourse with retractable stadium seating that will seat approximately 1,500 people, clean restrooms and a state-of-the-art sound system.

The outdoor warm-up arena is 120' x 180' and is located on the north side of the building.

Arena Diagram

Stalls
The covered pavilion is equipped to handle all types of livestock. It is 250' x 150' and it contains 65 10 x 10 horse stalls and 52 10' x 14' cattle stalls, 3 concrete wash racks with tie rails, electrical drops, water, and lighting. The sound system can be used independently, or synced with the main arena.

Stall Diagram
Foyer
The spacious climate controlled 26' x 48' foyer is ideal for receptions, banquets, parties, or additional vendor space. It can comfortably hold 125 people with tables and chairs.
Conference Room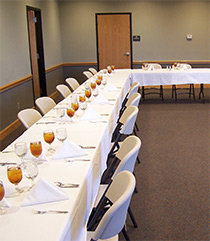 The versatile climate controlled 26' x 38' conference room has the flexibility of being arranged to accommodate meetings, banquets, seminars, or parties. It can comfortably hold 75 people with tables and chairs.
Parking
The main building is surrounded by 500 marked parking spaces along with 3 acres of gated graveled parking spaces that can accommodate numerous cars, trucks with trailers, travel trailers, and RVs.
RV Hook-ups
Located on the north side of the center are 14 RV or trailer hook-ups that provide water and electrical service.
Concessions
Concessions are available at the center, and menus can be specialized to accommodate the individual needs for each event.

For additional information, please contact 256-859-5896.
In order to view PDF files on your computer, you must have a PDF reader program installed. If you do not already have such a reader, you can download a free reader at Adobe's website: Download Adobe Acrobat Reader Software