Facilities Management
The Physical Facilities Plant provides services for the maintenance and operations of facilities, grounds, utilities, minor renovations​ and other related functions that support the instructional, research, and public services of Alabama A&M University.
In an effort to best serve our AAMU faculty and staff, this brief questionnaire was created to assess your thoughts on the condition of campus facilities. Please take a moment to complete the survey. Your input is greatly needed in helping us to determine what, if any improvements should be made.
Please complete survey below
Take the AAMU Facilities Condition Assessment Survey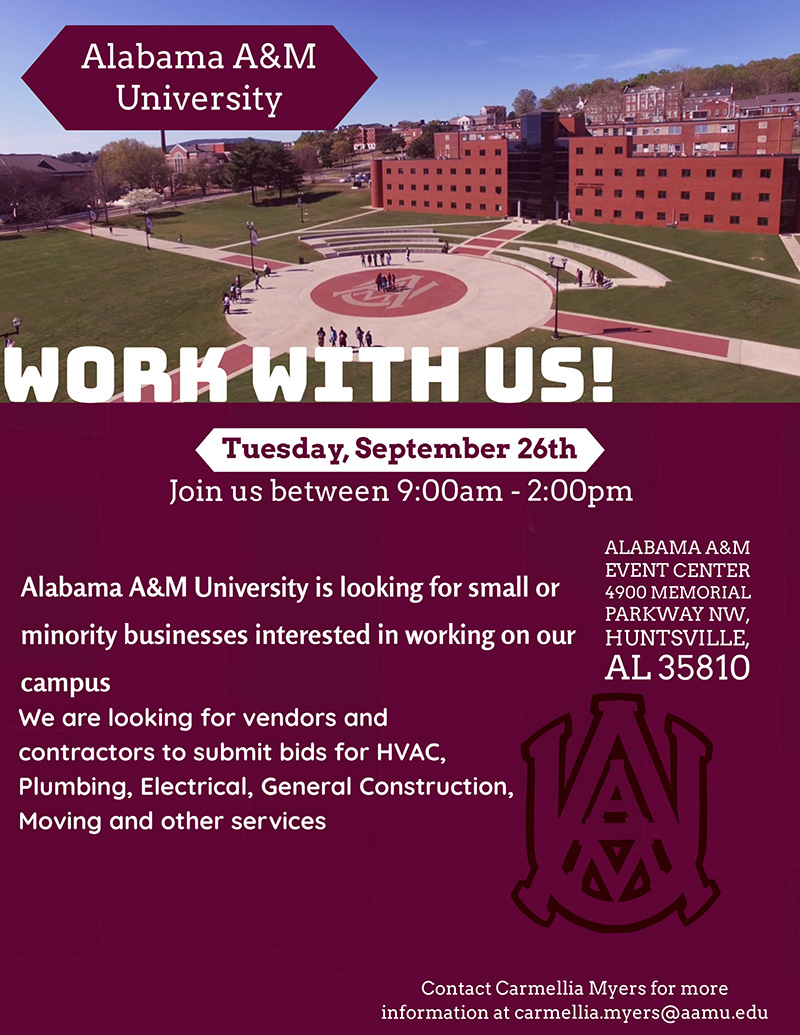 Alabama A&M University
Work with Us!
Tuesday, September 26th
Join us between 9:00am – 2:00pm
Alabama A&M University is looking for small or minority businesses interested in working on our campus.
We are looking for vendors and contractors to submit bids for HVAC, Plumbing, Electrical, General Construction, Moving and other services.
Alabama A&M
Event Center
4900 Memorial parkway NW, Huntsville, AL 35810
Contact Carmellia Myers for more information at carmellia.myers@aamu.edu
Hours of Operations
Monday - Friday
7:00 a.m. - 5:00 p.m.
Contact Us
Physical Facilities
Phone: 256-372-5829
University Services Bldg.
In order to view PDF files on your computer, you must have a PDF reader program installed. If you do not already have such a reader, you can download a free reader at Adobe's website: Download Adobe Acrobat Reader Software