The Alabama A&M University Writing Center
Our services are free for all AAMU students and our tutors come from a variety of academic disciplines with specialized training to work with all types of writing and writers. Our center also has other writing resources that writers can access for help with such things as research documentation, avoiding plagiarism or reviewing the rules of punctuation and grammar. (Click the dropdown menu above to see more services.)
Come to The "Write Place" for all of your writing needs!
The "Write Place" serves all AAMU students, but graduate students needing help with master's reports and dissertations, should contact Taynetta O'Neal in Graduate Studies or
NEED HELP WITH YOUR RESUME? COME SEE US!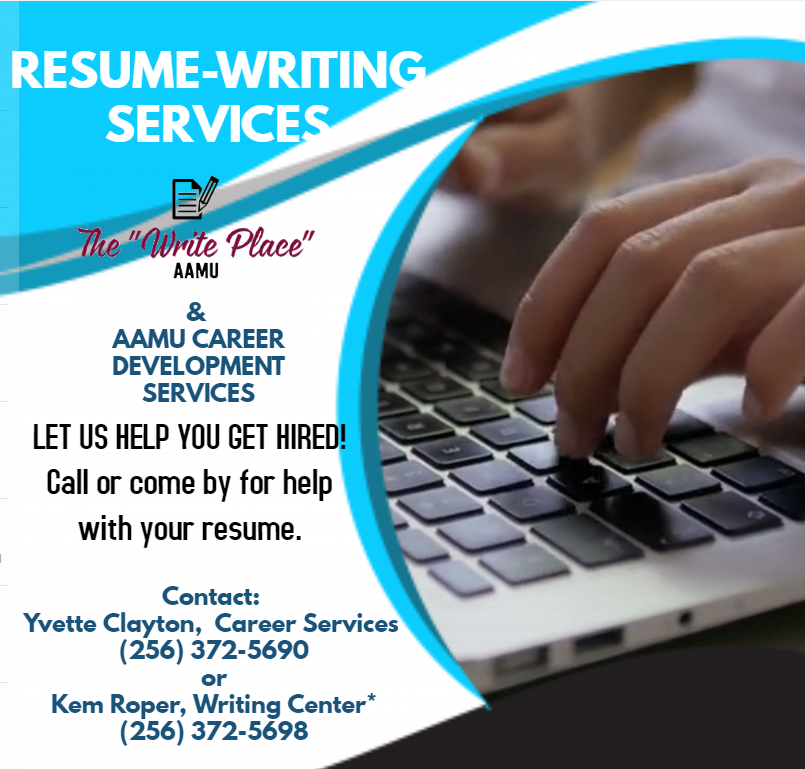 Hours of Operation:
The AAMU Writing Center is open
8:30am-5:30pm
Monday through Thursday
8:30am-4:00pm on Fridays*
*Closed on Fridays during summer term
We now offer resume-writing help!
Feel free to call, email, or stop by to make individual or class reservations, or one-on-one appointments. Questions?
Contact Writing Center Director, Kem Roper 256-372-8965 or email kem.roper@aamu.edu.
For additional tutorial services provided through Tutorial Assistance Network (TAN), contact Linda Skeete-McClellan, Director at (256) 372-5487 or email linda.skeete@aamu.edu.
Book your Appointment
Although we do accept walk-ins, to guarantee a dedicated tutor, we recommend that you schedule an appointment. Appointments can be made through GradesFirst (Fall-Spring semester only) or on our Year Round Appointment Page.
FOR ALL SUMMER "IN PERSON" OR "ZOOM" APPOINTMENTS USE YEAR ROUND APPOINTMENT LINK ONLY!
The best consultations are those that are face to face. However, thanks to modern technology, face to face is not the only way we can help you! In addition to the many other services offered at The "Write Place," you can also have your writing reviewed virtually by one of our "Write Place" tutors.
Through this process you may submit your assignment through email to be reviewed by our tutors and returned to you with edit suggestions. Please allow 48 hours for submissions to be returned.
See full instructions for getting writing assistance by email!
E-Consultation Form
Thanks to modern technology, you can have a face-to-face tutoring session without coming into the Writing Center! In addition to the many other services offered at The "Write Place," you can also have your writing reviewed virtually and speak to a writing tutor through the Zoom app.
Note:
Zoom appointments can only be booked 24 hours (or more) in advance. No same day Zoom conferences will be scheduled
You will need a phone, computer or mobile device that has a web cam
You do not have to have a Zoom account. You simply need the meeting ID which will be included in the Zoom invite that we send
See full instructions for setting up your Zoom Consultation!
Zoom Conference Form
After booking your Zoom appointment (below), check your email for further instructions.
What to Expect When You Come…
Upcoming Events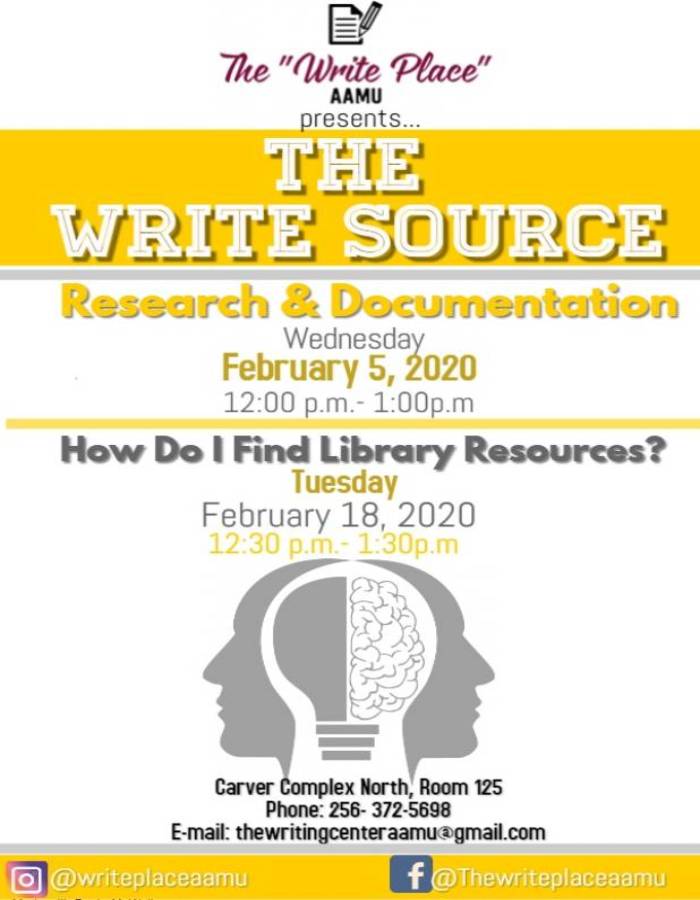 Research & Documentation Workshops
February 18, 2020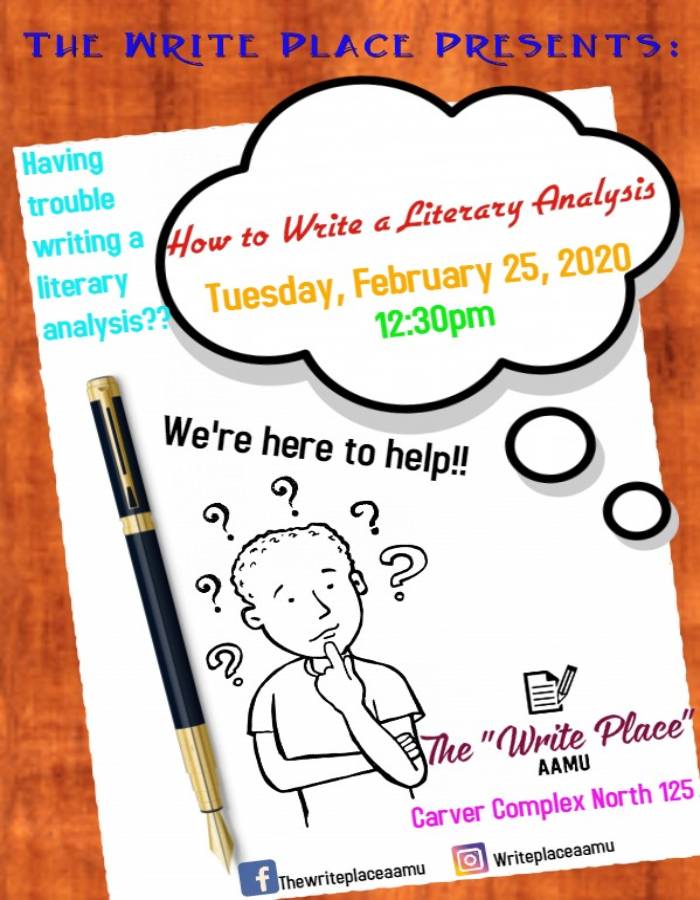 Literary Analysis Workshop
February 25, 2020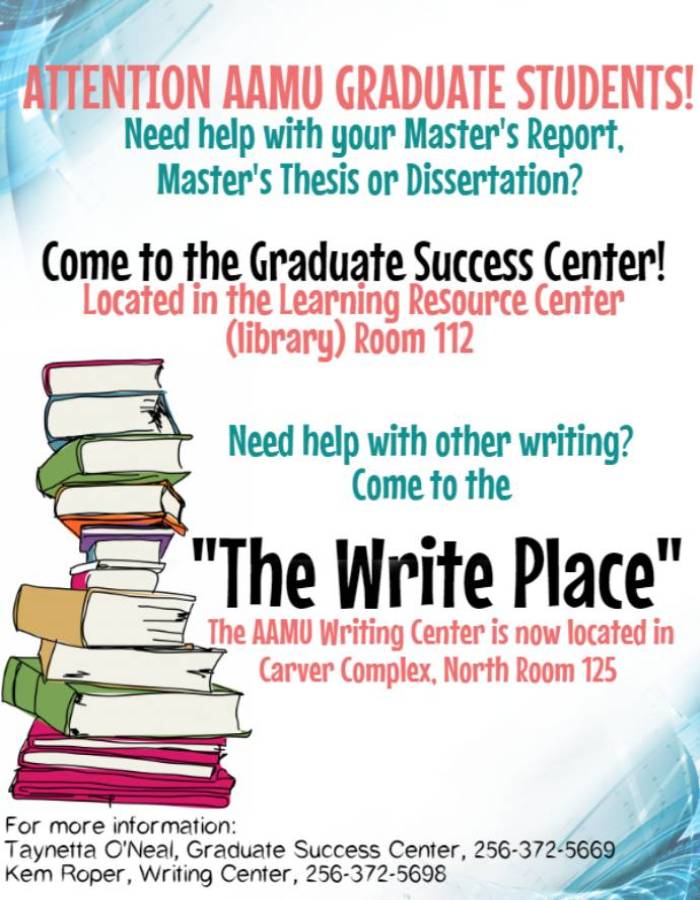 Graduate School and Write Place Collaborate!
Spring 2020
ADDITIONAL RESOURCES
Contact Us
Writing Center
(256) 372-5698 (phone)
(256) 372-5069 (fax)
Carver Complex North, 125
In order to view PDF files on your computer, you must have a PDF reader program installed. If you do not already have such a reader, you can download a free reader at Adobe's website: Download Adobe Acrobat Reader Software