Candyce Curry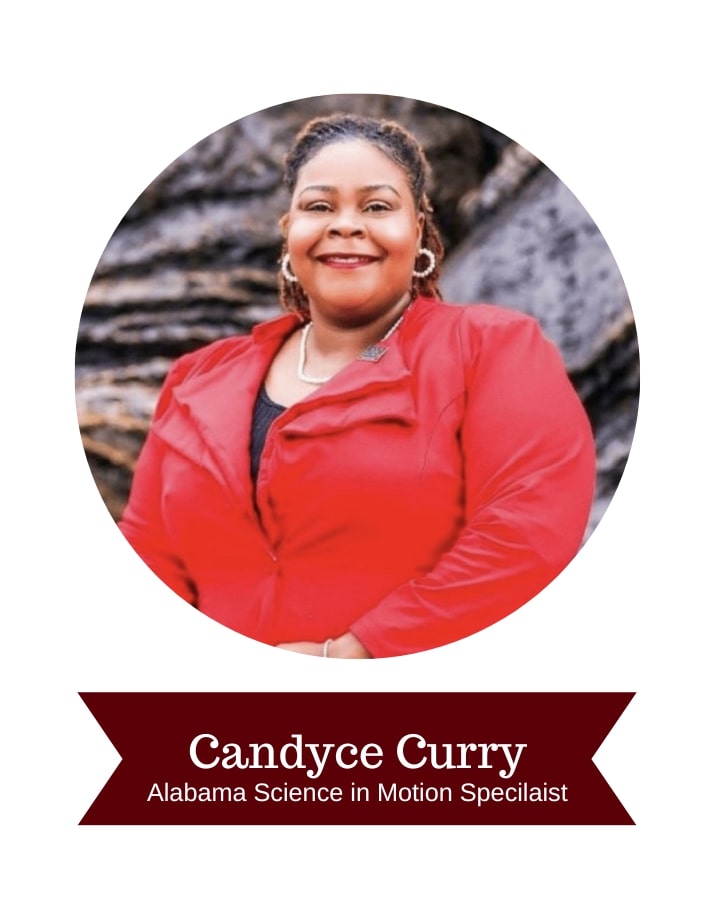 Candyce Curry, a native of Huntsville, AL, has been a Science Educator for nearly two decades. She has served in the capacities of Science Teacher (6-12), Curriculum Specialist/Coach, Professional Development Facilitator & 21st Century Learning Center Director. She was fortunate to begin, develop and hone her skills as a science teacher in the Birmingham City Schools District (Birmingham, AL) and served in many building-based and district leadership roles. She has also written and received several grants during her teaching tenure to provide equity in her own realm. She is a passionate educator who believes in investing in her own professional growth.
In 2022, she became an Albert Einstein Distinguished Educator Fellow and spent eleven months in the District of Columbia working with the United States Geological Survey (USGS). During her fellowship, she created science content curriculum around data literacy, environmental justice, harmful algal blooms, local watersheds, and water quality for teachers to access on the USGS Youth and Education in Science webpage "Data in Schools," which she also created and developed content. She has continued to encourage equity in the classroom on local, state, national and global platforms through virtual and in-person presentations on data literacy, local watersheds, harmful algal blooms and virtual classroom visits.
Candyce Curry serves as the Alabama Science in Motion Specilist (ASiM) for Region 3. ASiM aims to provide high-tech laboratory experiences for students and effective professional development for teachers. In many instances, the equipment cost involved would be prohibitive for individual schools or systems. Sharing this equipment through Science in Motion offers equally enriching opportunities to students from different backgrounds and schools. Professional development workshops improve teacher mastery of subject matter and equipment use. Through these workshops, teachers from other school systems can network with peers, sharing content knowledge and teaching techniques. Program specialists may also team teach during classroom visits increasing the teacher-student ratio and providing additional content knowledge.
Her passion for educational technology has led her on a path to certification in several areas, including Apple Learning Coach, EdPuzzle Trainer, Nearpod and Quizizz Educator to name a few. She is a tireless advocate for equity in STEM education, and she believes that all teachers deserve access to high-quality professional development. Candyce works tirelessly to create and facilitate opportunities that will help STEM teachers enhance and refine their practice.