For Your Safety & Convenience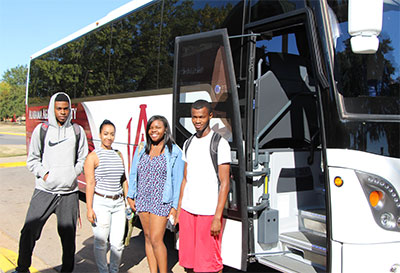 BTS has compiled some safety guidelines that all riders should pay careful attention to. Thank you for your cooperation.
Transportation Time
Plan to allow ample time for transportation to and from class by considering traffic congestion or other possible delays. Make use of the AAMU mobile app to monitor estimated bus arrival times.
Before getting on the bus
Please allow riders departing from the bus to exit before boarding.
Exiting the bus
After exiting the bus, use caution and allow the bus to pull away before you cross the street.
Standing while riding the bus
If you are standing while riding the bus, maintain a firm and secure grip on the handrails.
Pick up and drop off
The bus will only pick up and drop off at BTS designated stops.
Smoking
No smoking allowed on the buses. In fact, AAMU is an entirely smoke-free campus.
Radios and music
Radios may not be played on the buses. Use earbuds.
Pets
Pets and other animals are not allowed on the buses, except for service animals approved under the Americans with Disabilities Act.
Profanity
Please refrain from using profanity while on the bus.
The BTS driver has the authority to maintain order on the bus.
Lost & Found
If you think you have left behind or lost an item while using Bulldog Transit, please call 256-372-7433 with your bus route information and a description of the item in question.
Help Us Help You
The BTS drivers are professionally trained as operators for the bus transportation industry. As always, we welcome any comments or suggestions about your experiences using the BTS.
Our goal is to provide reliable service. However, weather and traffic conditions may force unforeseen delays. Also, it may become necessary to change or discontinue certain routes, due to demand.