January and February Scholarships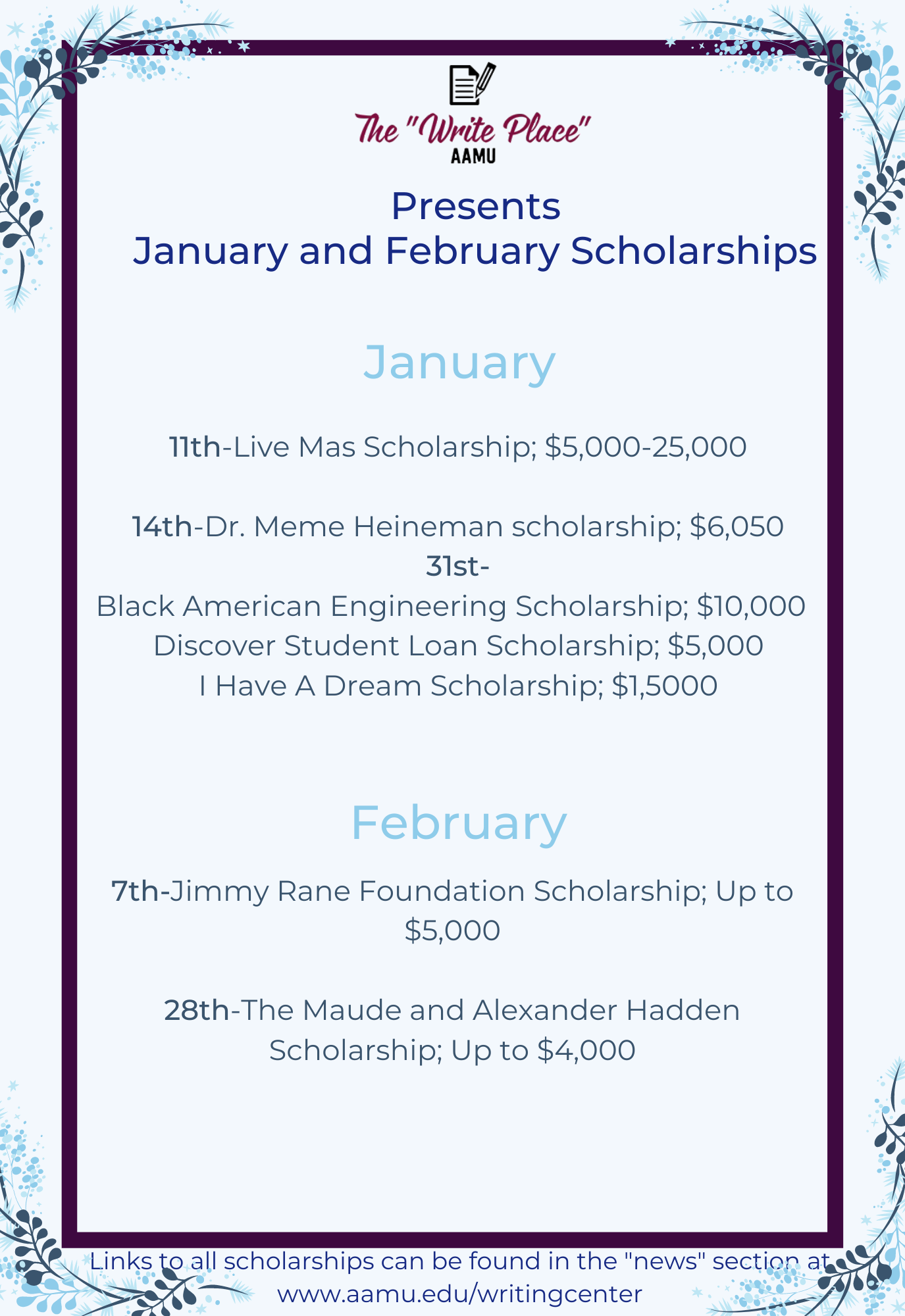 January 05, 2022
January and February Scholarships
JANUARY SCHOLARSHIPS
Click the title of each scholarship to apply.
Award: $5000- 25000
Deadline: January 11
Description: Open to all legal U.S. residents ages 16-26 who are pursuing higher education.
Award: $6050
Deadline: January 14
Description: Any high school senior, undergraduate student, or graduate student who is majoring in or planning to major in Psychology or Applied Behavior Analysis is encouraged to apply for this scholarship.
Black American Engineering Scholarship
Award: $1,000
Deadline: January 31
Description: Applicants must be a Black American incoming college freshman/current high school senior or a student transferring from a two-year program into a four-year program. Applicants must be eligible for Federal Pell Grant funding and able to show proven financial need. Must be a U.S. citizen, national, or permanent resident in good academic standing who is enrolling in an accredited, not-for-profit four-year institution. Must be pursuing a degree in civil, electrical, mechanical, or chemical engineering, including any subfield of those disciplines.
Discover Student Loans Scholarship
Award: $5, 000
Deadline: January 31
Description: Open to U.S. residents who are at least 16 years old. Must be a high school senior who will be or a college student who is enrolled at least half-time in a Bachelor's or Associate's degree program or graduate program at an eligible school within one (1) year of winner notification/confirmation.
Award: $1500
Deadline: January 31
Description: Must be an undergraduate and must be enrolled at a university, four-year, or two-year college
FEBRUARY SCHOLARSHIPS
National Garden Clubs College Scholarship
Award: Varies
Deadline: February 1
Description: Scholarships are open to current undergraduate and graduate students majoring in Agronomy, Agriculture Education, Floriculture, Horticulture, Landscape Design, Botany, Forestry, Wildlife Science, Plant Pathology/Science, City Planning, Habitat or Forest/Systems Ecology, Environmental Concerns, Land Management or other related or allied subjects.
Walt Disney Company UNCF Scholars Program
Award: up to $2500
Deadline: February 1
Description: Scholarship is open to African American college sophomores who have an interest in pursuing a career in the entertainment industry (e.g. film, television, hospitality management, journalism, media production, digital media, etc).
Jimmy Rane Foundation Scholarship
Award: Up to $5000
Deadline: February 7
Requirements: Students must certify that they did not participate as a student athlete; students enrolled full-time as a college freshman or sophomore, no older than 20 years of age as of August 1, 2022, and progressing normally toward a bachelor's degree; A minimum grade point average (GPA) of 2.75; All applicants must reside (permanent home address) in one of the following states or the District of Columbia: Alabama, Florida, Georgia, Mississippi, South Carolina, Tennessee, Louisiana, Texas, North Carolina, Kentucky, Oklahoma, Arkansas, Iowa, Nebraska, Kansas, Missouri, Maryland, Virginia, West Virginia, Pennsylvania, Ohio, New York, Delaware or New Jersey; Open to all majors.
The Maude and Alexander Hadden Scholarship
Award: up to $4,000
Deadline: February 28
Requirements: In awarding Hadden Scholarships, Youth Foundation considers scholastic achievement, character, leadership, volunteerism, and financial need. There is a minimum unweighted grade point average requirement, 3.5 on a 4.0 scale, to apply for a Hadden Scholarship. There is no minimum test score requirement, but past winners have had competitive scores; Open to All Majors.