July 2022 Scholarships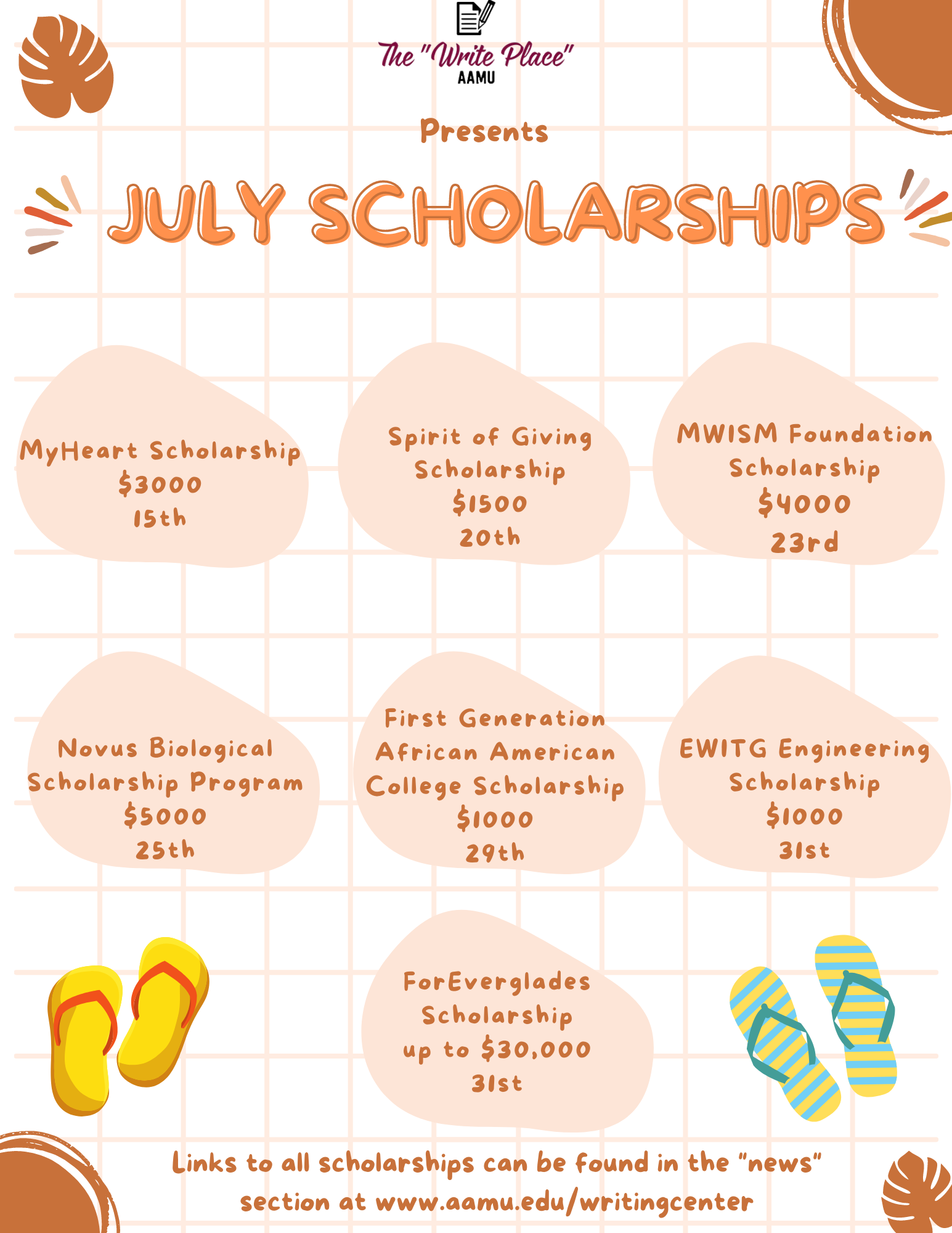 July 05, 2022
July 2022 Scholarships
Need money for school? Click the titles of each scholarship below to apply! Need help writing the application essay? Book an appointment with us!
Award Amount: $3,000
Description: To be eligible you must be interested in the study of cardiovascular health or the pursuit of a career in the healthcare industry, pursuing an undergraduate, graduate, or medical degree (Two-year degrees are eligible.) and be accepted into your chosen program to claim the scholarship, but you can apply before acceptance. If not yet accepted, list the school where you think you are most likely to attend. Must be a current resident of the United States.
Deadline: July 15
---
Novus Biologicals Scholarship Program
Award Amount: $1,500
Description: Applications must be submitted online by the application deadline with all required information filled out. This scholarship is open in the US/Canada and European Countries to all levels of study above high school (PhD, baccalaureate, graduate, associate degree, or diploma.) Applicants must be already enrolled/accepted at a university to apply.
Deadline: July 20
---
Award Amount: $4,000
Description: Applicants to the Minority Women in Sports Medicine Scholarship Fund must be currently enrolled in an undergraduate or graduate program maintaining a 3.0 GPA.Anticipated course of study must include Athletic Training, Physical Therapy, Exercise Science, Pre-Medical, Kinesiology, Exercise Physiology or another course of study that provides a direct service to athletics.
Deadline: July 23
Award Amount: $5,000
Description: Applicants must be women with sophomore or junior standing at a U.S. college or university at the time of the application. A minimum 3.5 GPA is required. Applicants will be required to submit an application, the most recent official transcript, an essay, and professional recommendation letters.
Deadline: July 25
---
First Generation African American College Scholarship
Award Amount: $1,000
Description: Applicants must identify as African American, must be a U.S. citizen who has been accepted to a college or university within the U.S. and must have 3.0 GPA on a 4.0 scale or ranking within the top 30 percent of the graduating class. Applicants must be a first-generation college student enrolling as a full-time student and must meet all eligibility requirements for the Pell Grant. Must be involved in community service.
Deadline: July 29
---
Award Amount: $1,000
Description: This program awards $1,000 to three lucky students who write the most thoughtful essays about their personal experiences with the spirit of giving and how they hope to continue fostering it in the future. Open to all majors.
Deadline: July 31
---
Award Amount: $30,000
Description: Open to full-time graduate research students from all U.S. universities pursuing degrees in earth sciences, biological sciences, engineering, geography, planning and resources management, and economics.
Deadline: July 31