July Scholarships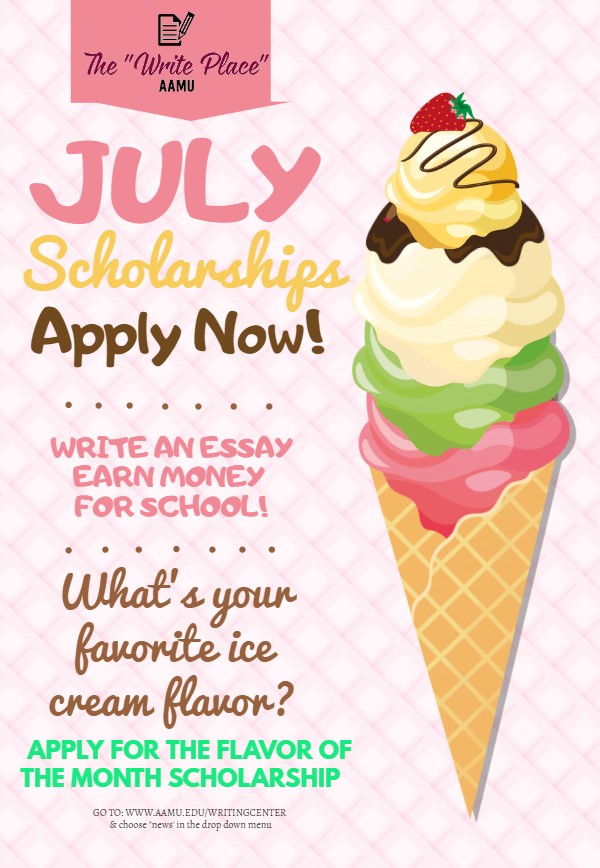 June 30, 2020
July Scholarships
Here's a list of scholarships for July. Be sure to click the name of each one to see the full details for application requirements.
Scholarship Deadline: July 31, 2020
Winning scholarships can be sweet--especially with this special a la mode award for scholarship seekers who love ice cream.
Are you simple and sweet like vanilla, classic yet unpredictable like chocolate chip, or a little nutty like pistachio? Whatever the flavor or reasons may be, we want to know what ice cream flavor best reflects your personality and why.
July is National Ice Cream Month, and we need a little help picking out a "Flavor of the Month" for our famous ice cream scholarship. Tell us all about your ice cream flavor, and you could scoop up a sweet $1,500 scholarship!
Applicants must:
Be thirteen (13) years of age or older at the time of application
Be legal residents of the fifty (50) United States or the District of Columbia
Be currently enrolled (or enroll no later than the fall of 2026) in an accredited post-secondary institution of higher education
Submit an online written response to the question:
"Summer and ice cream go hand-in-hand. In fact, July is National Ice Cream Month, and that's the inspiration behind this award. We think people are very similar to ice cream; some are nutty, others a little exotic, while some are very comforting. If you were an ice cream flavor, which would you be and why?" (250 words or less)
The Flavor of the Month Scholarship winner will be notified by email or phone on or around October 31, 2020.
Scholarship Deadline: July 15, 2020
Winners will be announced in August 2020. Applications can be downloaded on the Angels On The Move website or prospective applicants can email us at info@angelsonthemove.org for an emailed version. There are seven short essay questions that must be answered in as many or as little words as the applicant needs to effectively communicate their response. Essay questions are aimed at better understanding the applicant's viewpoints, character, and goals. All parts of the application must be postmarked by July 15, 2020. If for some reason an applicant is not able to complete part of the submission (due to COVID-19) please email us before the deadline date and we will make determinations regarding whether or not the incomplete application will be accepted on a case by case basis.
Scholarship Deadline: July 15, 2020
Description:
the Law Offices of Gary H Smith, P.C.'s offer an annual academic
scholarship to any US citizen or permanent US resident who will be enrolled in the fall in an accredited community college or university (undergraduate or graduate), earning credits toward a degree (associate, baccalaureate, or graduate). Applicants submit an essay and application form.
Essay must be 1,500 words or less and posted on your blog. This can be a student blog on your university website or your own personal blog. If you do not have a blog, you can create one for free at https://www.wordpress.com. Include at least three "clickable" links to authoritative sources. At least one of these has to go to an article on Law Offices of Gary H Smith, P.C.'s blog. The work must be your own. Essays submitted as GoogleDoc Files, private blog posts, etc. will not be considered. (Click title of scholarship, above, for more information)
Award Amount: $1,000 offered.