May Scholarships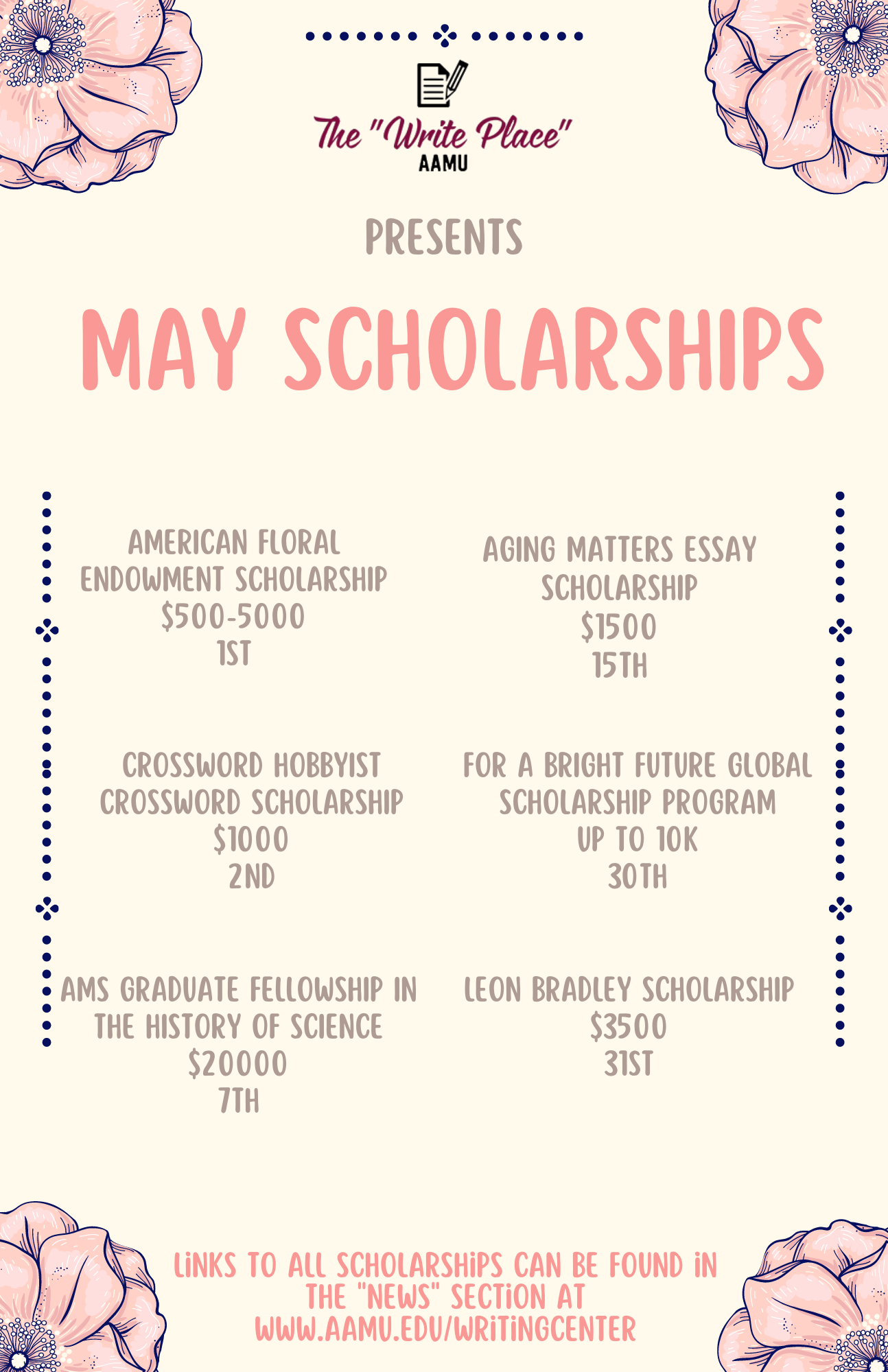 April 19, 2022
May Scholarships
Scholarship opportunities await! Don't leave that money on the table. Click each title below to apply.
American Floral Endowment Scholarship
Amount: $500-5000
Description: Must be a CITIZEN OR RESIDENT OF THE U.S. OR CANADA, or be enrolled in an accredited educational institution in the U.S. or Canada, and have a minimum 2.0 GPA. Open to undergraduate sophomore through graduate level college students pursuing degrees in floriculture and horticulture fields.
Deadline: May 1st
Crossword Hobbyist Crossword Scholarship
Amount: $1000
Description: Open to students who will be enrolled in an undergraduate program for the Fall 2022 semester
Deadline: May 2nd
Amount: $20,000
Description: The goal of the graduate fellowship is to support dissertation topics in the history of the atmospheric, or related oceanic or hydrologic sciences, and to foster close working relations between historians and scientists. The candidate must be a graduate student in good standing proposing to complete a dissertation
Deadline: May 7th
Aging Matters Essay Scholarship
Amount: $1500
Description: Any existing student (or incoming freshman), in good academic standing, at a 2 or 4 year accredited college can apply for this scholarship. And the recipient will demonstrate a unique and admirable understanding and desire to show us that "Aging Matters" to them.
Deadline: May 15th
For a Bright Future Global Scholarship Program
Amount: up to $10,000
Description: Applicants must be minority high school/ college students who reside and study in the United States and come from low-income households and have graduated from high school with a minimum 3.0 GPA. Open to all majors
Deadline: May 30th
Amount: $3,500
Description: Students must be in the field of teaching and school leadership. GPA minimum is not required.
Deadline: May 31st