October Scholarships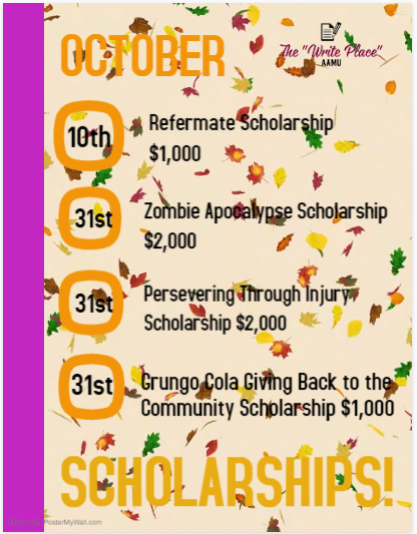 October 01, 2020
October Scholarships
Founders of Refermate often struggled while paying back their students loans, so they have decided to give back to the community through this scholarship program. Since 2019, Refermate has awarded a $1,000 scholarship to one student each year. Students must upload a Youtube video and write a 500 minimum word essay. Details can be found on their website. Click the title of this scholarship for details.
Did binge-re-watching "The Walking Dead" get you thinking about what you'd do if the streets were filled with flesh-eating zombies? Maybe you've envisioned your own post-apocalyptic world overrun with the living dead, forcing you to come up with a zombie survival plan — and quick!
Hone your survival tactics and imagine what your school or college campus might be like in a zombie apocalypse. Our Zombie Apocalypse Scholarship committee wants to know your plan to avoid the zombies, where you'd hide, and the top-five things you'd bring to stay alive.
We're giving one successful survivor $2,000 towards his or her college education. Do you think you have what it takes to make the cut? Click on the scholarship title to apply.
Persevering Through Injury Scholarship
Do you have someone in your life who has battled back from a serious injury? If so, we want to hear from you. In a 750-1,000 word essay, describe someone who you look up to who used perseverance, mental fortitude, and resilience to overcome a significant injury. Would you consider them a hero? What traits do they possess that you believe helped them overcome their injury?
Application requirements for the The Persevering Through Injury Scholarship are:
Essay
Official Transcript
This scholarship is open to any current high school senior, college student or graduate student who is currently enrolled in a two- to five- year post-secondary institution or who will be the semester following the scholarship deadline. All applicants must legally reside in the United States in one of the 50 states or the District of Columbia. Candidates for this scholarship must maintain a minimum GPA of 3.0 or higher while keeping good overall academic standing within their school. Click on the scholarship title to apply.
The Giving Back to the Community Scholarship
The Giving Back to the Community scholarship is available for any student who is currently enrolled in an accredited community college, undergraduate, or graduate program in the United States. Students who are currently incoming first-year college students and have graduated high school or possess a GED may also apply. Any eligible candidates must be in good academic standing and have a minimum cumulative GPA of 3.0 or above.
Application requirements for the Grungo Colarulo Giving Back to the Community Scholarship are:
Additional Information:
Your updated resume, pertinent contact information, and status as a student. A 750-word essay that provides a thoughtful description of your experience of community service and what giving back to your community means to you. Your current transcript, unofficial, from your school (NOTE: for first-year college students, submit an unofficial transcript from your most recent school as well as one from your current post-secondary institution.)
Click on the scholarship title to apply.