Summer Scholarships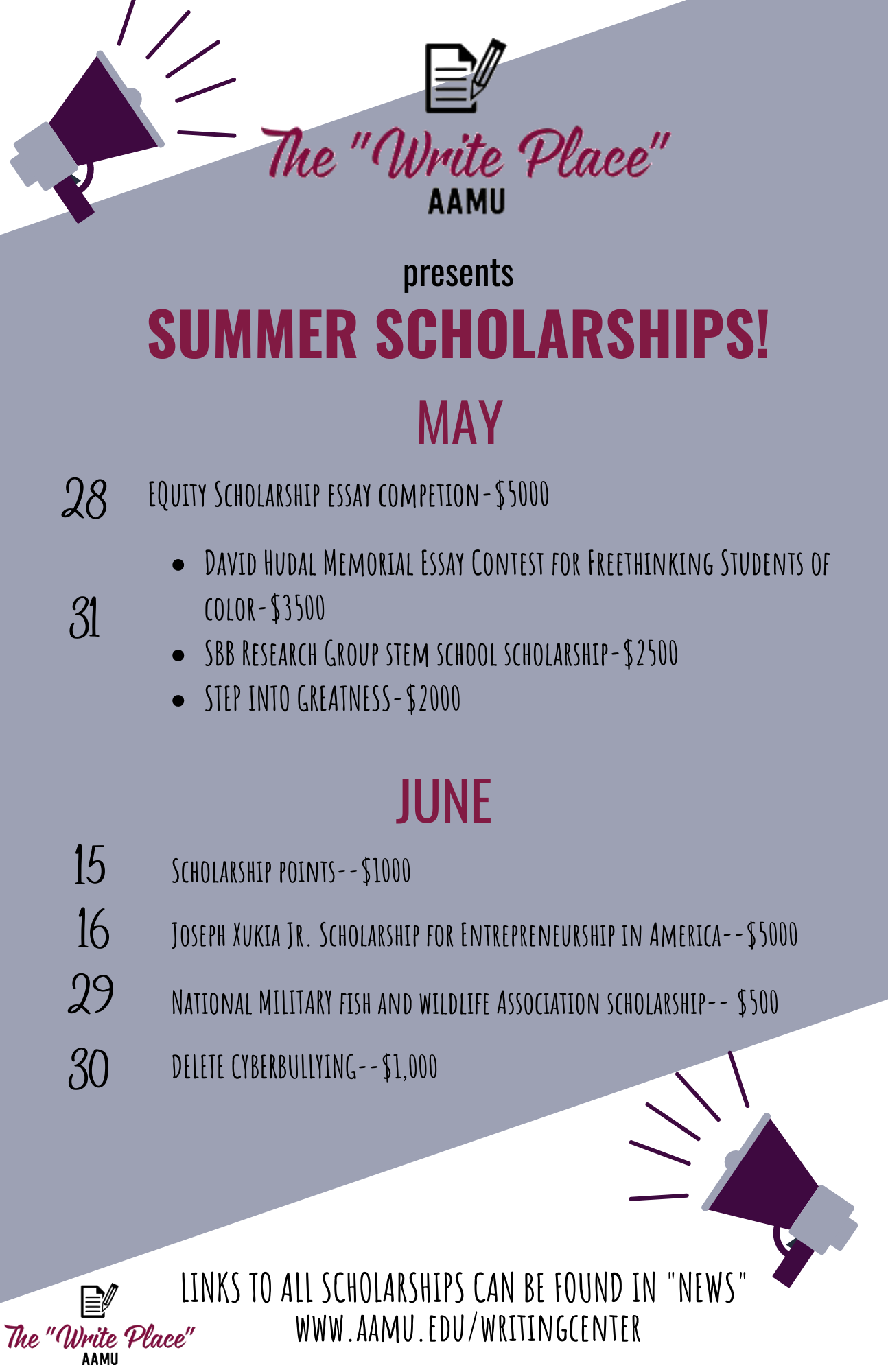 May 20, 2021
Summer 2021 Scholarships
EQuity Scholarship Essay Competition
EQuity is a Black-owned, learning and development venture working to advance racial justice by developing emotional intelligence . Any degree-seeking student is eligible to apply.
SCHOLARSHIP AMOUNT: $5000
DEADLINE: May 28
David Hudal Memorial Essay Contest for Freethinking Students of Color
The David Hudak Memorial Essay Contest for Freethinking Students of Color is open to minority students aged 17-21, who are either high school seniors who will be attending a North American college or university in the fall, or who are currently enrolled. Applicants must submit an essay between 400-600 words answering the chosen prompt.
SCHOLARSHIP: $3500
DEADLINE: May 31
SBB Research Group STEM School Scholarship
The SBB Research Group STEM Scholarship encourages and empowers students to create significant value and countless new opportunities for society through their pursuit of higher learning, especially through interdisciplinary combinations of Science, Technology, Engineering, and Mathematics (STEM).
SCHOLARSHIP: $2500
DEADLINE: May 31
A stepping stone helps individuals reach a specific goal in life. Without stepping stones many entrepreneurs would not be as successful as they are today. A collective group of black-owned businesses have joined together to provide an opportunity for hardworking students making an impact in the community to further progress in their education and step into their greatness.
SCHOLARSHIP: $2000
DEADLINE: May 31
ScholarshipPoints awards one $10,000 scholarship every quarter of the year exclusively to members. There is no essay required. Simply sign up to be automatically entered into the scholarship.
SCHOLARSHIP: $10000
DEADLINE: June 15
Joseph Zukin Jr Scholarship for Entrepreneurship in America
The scholarship was established to recognize the entrepreneurial skills, work ethic, and commitment to community engagement that were hallmarks of the lifetime work of Joseph Zukin Jr.The scholarship will be awarded to any student -- graduate or undergraduate -- whose academic record and community activities reflect the spirit demonstrated by Mr. Zukin in his lifetime. Special consideration will be given to students from marginalized communities
SCHOLARSHIP: $5000
DEADLINE: June 16
National Military Fish and Wildlife Association Scholarship
The purpose of the National Military Fish & Wildlife Association Scholarship is to provide financial aid to wildlife and fisheries biologists, botanists, ecologists, range conservationists, foresters, and/or wildlife law enforcement agent-oriented students.
SCHOLARSHIP: Minimum of $500
DEADLINE: June 29
Delete Cyberbullying Scholarship
In an effort to get students committed to the cause of deleting cyberbullying, we are offering the Delete Cyberbullying Scholarship Award for high school, college and graduate students - a $1,000 scholarship to help cover educational expenses.
SCHOLARSHIP: $1000
DEADLINE: June 30th