Tuesdays with Morrie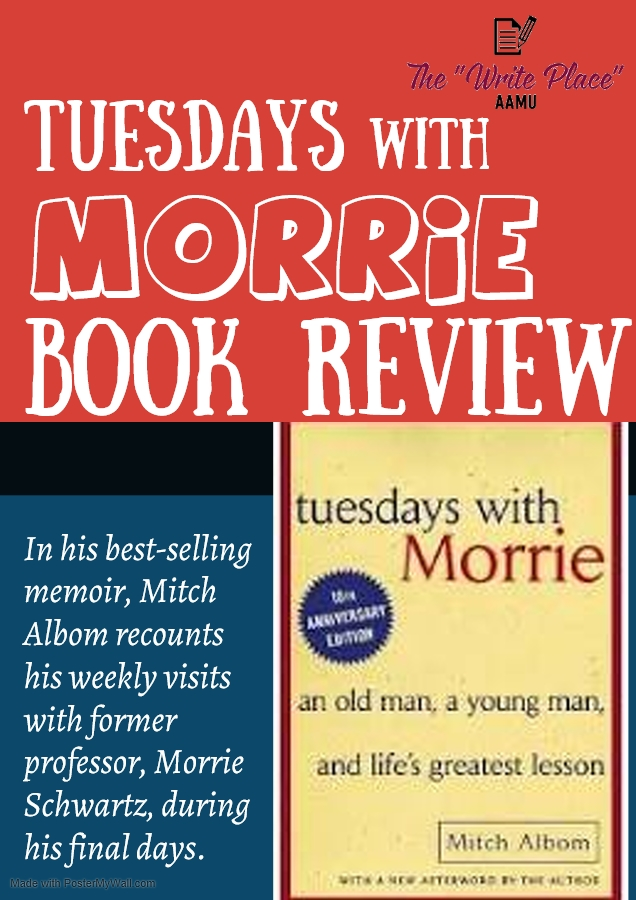 April 01, 2020
Book Review:Tuesdays with Morrie by Nia Whitten
Truly, my favorite books are always book series... the Harry Potter series, the Hunger Games series. However, when we were given the task of coming up with a book of the month, I tried to think of all the "stand-alone" books I have read. Of all the books I have read, one of my favorites is Tuesdays with Morrie. Tuesdays with Morrie is a memoir written by Mitch Albom. It is about a man named Morrie Schwartz, Albom's former sociology professor. Several years had gone by since Mitch graduated from college, and he had not seen his favorite professor in quite some time… until he found out that Morrie had been diagnosed with ALS.
ALS is a disease that attacks the neurological system and slowly causes paralysis in the body. It is a deadly disease. Mitch Albom knew that this was probably the last chance he would have to visit Morrie, so he began his "final class" with his favorite teacher. Although it seems that this book would be very sad (and sure, there are some sad moments), it is an incredibly inspirational book about love, humor, and humility; in general, it is a book about how to live life to the fullest. Morrie lived life to the fullest, even while he was dying. Albom writes in his infamous book, "The class met on Tuesdays. It began after breakfast. The subject was The Meaning of Life. It was taught from experience… I was the only student" (Albom).
According to mitchalbom.com, Mitch Albom started the book as a means to help pay for Schwartz' medical bills. Now the book is the "best-selling memoir of all time" and has sold "17 million copies in more than 50 editions around the world" (mitchalbom.com). The book was even assigned for me to read when I was in high school and in undergraduate school. It is one of the most inspirational and touching books I have ever read. It leaves readers wanting to live life to the fullest instead of passively going through the motions every day. If you want to be inspired, full of joy, and filled with a passion for life, I highly encourage you to read Tuesdays with Morrie.
Albom, Mitch. Mitch Alboms Tuesdays with Morrie. Edited by Jeffrey Hatcher, Dramatists Play Service, 2008.
Daniels, Jeff. "Tuesdays with Morrie " Mitch Albom." Mitch Albom, https://www.mitchalbom.com/books/tuesdays-with-morrie/.