Dr. Sheila Nash-Stevenson
Science Honoree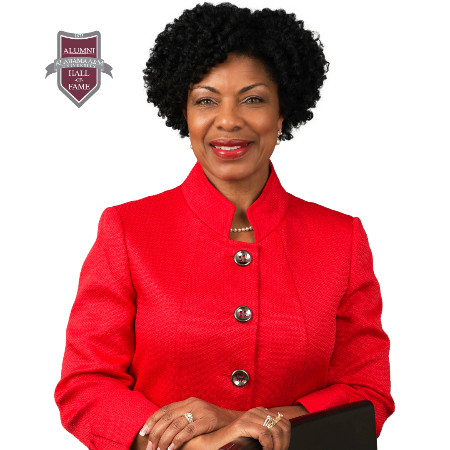 DR. SHELIA NASH-STEVENSON MADE HISTORY IN 1994 when she became the first African American female in Alabama to earn a Ph.D. degree in physics. She was among the first African Americans to receive a Ph.D. in physics from Alabama A&M University and one of less than 20 African American females to hold a Ph.D. in physics in the entire United States at that time. Born and raised "in the country" of Lawrence County, Alabama, Dr. Nash-Stevenson lacked any science, technology, engineering, or mathematics (STEM) role models or mentors, but her love of math was one of the driving forces that led to her academic and professional success. She is a three-time Magna Cum Laude graduate of Alabama A&M University with a Bachelor of Science in Electrical/Electronic Engineering Technology and Master of Science and Ph.D. degrees in Physics.
Dr. Nash-Stevenson's employment history includes the US Army Ballistic Missile Defense Systems Command, Nichols Research Corporation, Huntsville Engineering Center of Hughes Aircraft Company, and Alabama A&M University. She is currently employed with the National Aeronautics and Space Administration (NASA) Marshall Space Flight Center in Huntsville, Alabama as an engineer with the Science and Technology Office, Science Research and Projects Division. The main objective of this office is to lead and conduct basic and applied investigations in the Earth and space sciences including astrophysics, heliophysics, and planetary science. Dr. Nash-Stevenson has co-authored several papers in the area of Laser Upconversion and holds a patent for an Optical Fiber Holder. She has served on dissertation and thesis committees, and she also mentors graduate and undergraduate physics students at Alabama A&M University.
In addition to being a charter member of both the City of Madison Board of Education and the Madison Rotary Club, Dr. Nash-Stevenson is also a member of Leadership Alabama, Leadership Huntsville/Madison County Alumni Association, National Technical Association, Huntsville Hospital for Women & Children Patient Family Advisory Council, International Women's Forum - Alabama, WEDC Foundation Board of Directors, Alabama A&M University Alumni Association, Greater Huntsville Chapter (AL) The Links, Incorporated and Delta Sigma Theta Sorority, Incorporated. She has been recognized by the NAACP Youth Council, Who's Who Among U.S. Executives, Who's Who Among Women Executives, and Outstanding Young Women in America. She was also named Top 50 Minority Women Scientists by the National Technical Association. In 2013, The City of Huntsville honored Dr. Nash-Stevenson for her dedicated service and untiring effort to make the Huntsville/Madison County area a better community and for being the first African American to serve on the Madison City School Board.
In 2016, NASA selected Dr. Nash-Stevenson to represent the agency as a "Modern Figure" at the Red Carpet Premiere of the movie "Hidden Figures" in New York City. In addition to walking the red carpet with the other celebrities, she also participated in numerous interviews encouraging girls and African Americans to pursue STEM degrees and careers.
Dr. Nash-Stevenson is an active member of the First Missionary Baptist Church of Huntsville, Alabama where she serves as a trustee, an usher and a greeter. She is married to Mr. Kirby Stevenson and is the proud mother of Kecenia and Keegan Stevenson. She resides in Madison, Alabama.