Dr. SanYvette Williams-Foy
Medicine Honoree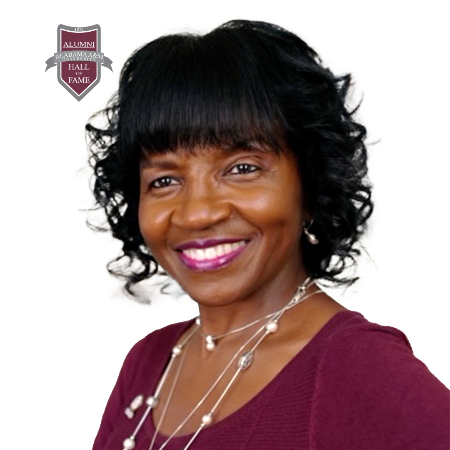 Dr. SanYvette Williams-Foy is a native of Tuscaloosa, Alabama, and the daughter of Corine Williams. Graduating with honors from Alabama A&M in 1983, she received the Bachelor of Science degree in Biology with a minor in Chemistry. She obtained the Doctor of Veterinary Medicine degree from Tuskegee University College of Veterinary Medicine (TUCVM) in 1988. Upon completion of a clinical pathology internship, she relocated to the Washington, D.C. metro area after joining the Environmental Protection Agency (EPA).
Dr. Williams-Foy is a public health veterinarian whose role encompasses the "One Health, One Medicine" concept for protection of human health, animal health and environmental health. Her undergraduate degree in biology and professional degree in veterinary medicine provided the basis for working in this arena. At the EPA, she manages antimicrobial pesticide chemicals and their potential risks to the three sectors mentioned above. Most recently, she contributed to the identification of antimicrobial pesticide products effective against public health pests such as the COVID-19 viral organism. She is a U.S. Public Health Service Commissioned Corp officer trained to promote, protect and advance the health and safety of the public during emergency and disaster conditions. A memorable deployment was during Hurricane Katrina where more than 6,000 owned pets were evacuated, housed, treated, fostered and/or reunited with displaced owners. In addition, health and safety protocols were implemented to prevent potential zoonotic disease transmission and other health hazards to volunteers and other service providers. PETS Act work was after this deployment.
Dr. Williams-Foy embraces "Service is Sovereignty" and is an active and committed advocate of HBCU institutions. She believes continued alumni support of time, talent, and means is extremely important to their survival. She is a lifetime member of the AAMU Alumni Association, Inc. and served in leadership roles at both the national and local chapter levels. Under her leadership, the Washington, DC Metro chapter was the first, and only, alumni chapter to establish an endowed scholarship (initial $52,000) within the Alabama A&M University Foundation. She has received the 1983 Class Reunion Achievement award, William Hooper Councill service award and the Alease Sims Leadership Award. She also co-chaired the Alpha Kappa Alpha Sorority, Inc. Gamma Mu Endowed Scholarship campaign, (currently >$118,000).
Dr. Williams-Foy is also a lifetime member of the Tuskegee Veterinary Medical Alumni Association (TVMAA) and serves in leadership roles at both the national and local chapter levels. She recently received the TVMAA Distinguished Alumni award. She leads the local alumni chapter in supporting the students and college to include mentoring and providing scholarships. She also uses her platform to expose minority students to the veterinary medicine profession and the broad area that it covers.
Drs. SanYvette, Harrison (husband) and Mari-Ashli Foy (daughter) own "N-Motion Home Veterinary Care", a full-service mobile veterinary clinic. In additional to providing veterinary care at one's home location, one of N-Motion HVC's signature service programs include the establishment of CPC's (Community Pet Centers). The program was designed to provide low-cost preventive veterinary care to underserved areas in PG county and Washington, DC. Services include low-cost vaccinations, including rabies, client education on proper animal care, nutrition, dental and heartworm prevention.