Checklist for Candidates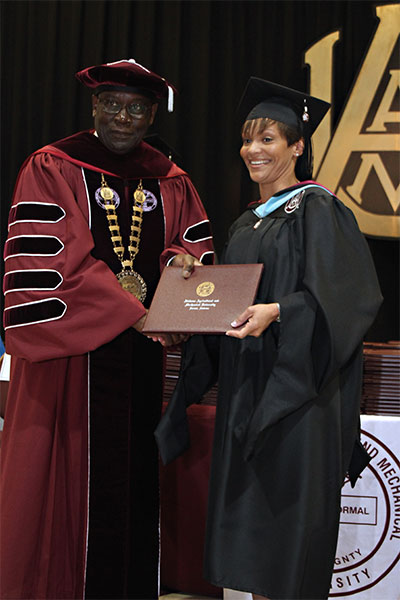 Candidates for graduation report to the AAMU Event Center with cap, gown and/or hood. Graduate and undergraduates will line-up alphabetically by academic college at the direction of the Commencement Marshals. Candidates must be in the line-up no later than 9:15 a.m. There will be no entrance to the line-up after this time. The Commencement Processional and Program will begin promptly at 9:50 a.m.
Below is a checklist to help you prepare for a happy and memorable event
Academic and Financial Requirements: All individuals who plan to participate in the graduation ceremony must meet all academic and financial requirements of the University. Please take whatever actions are necessary to ensure you meet those requirements for your participation in the ceremony.
Final Courses: Contact your department chair for any questions you may have concerning completion of your degree requirements. Students, who are not enrolled in their final courses, will not be given permission to participate in the ceremony.
Graduation Attire:
Ladies – black dress or black skirt with white blouse and black shoes
Men – white shirt with dark tie, black pants and black shoes
Please be mindful that all graduates will be asked to remove or lift up their gown upon entering the Event Center.
Commencement mandatory. Candidates for graduation are required to attend the Commencement. An official excuse must be obtained from the Provost and Vice President of Academic Affairs if you are unable to attend, by completing and submitting a "Excuse From Commencement Ceremony Form"
Special Disability Needs: Participants with special disability needs during commencement should contact the Office of Academic Affairs at (256) 372-5275 no later than noon on Thursday, November 17, 2022.
Diplomas:Graduates are advised that diplomas will be mailed after the commencement ceremony.
Mailing Address: Please verify/update your mailing address via Banner Self-Service.
Again, congratulations on your great accomplishment. We look forward to celebrating with you!