Checklist for Candidates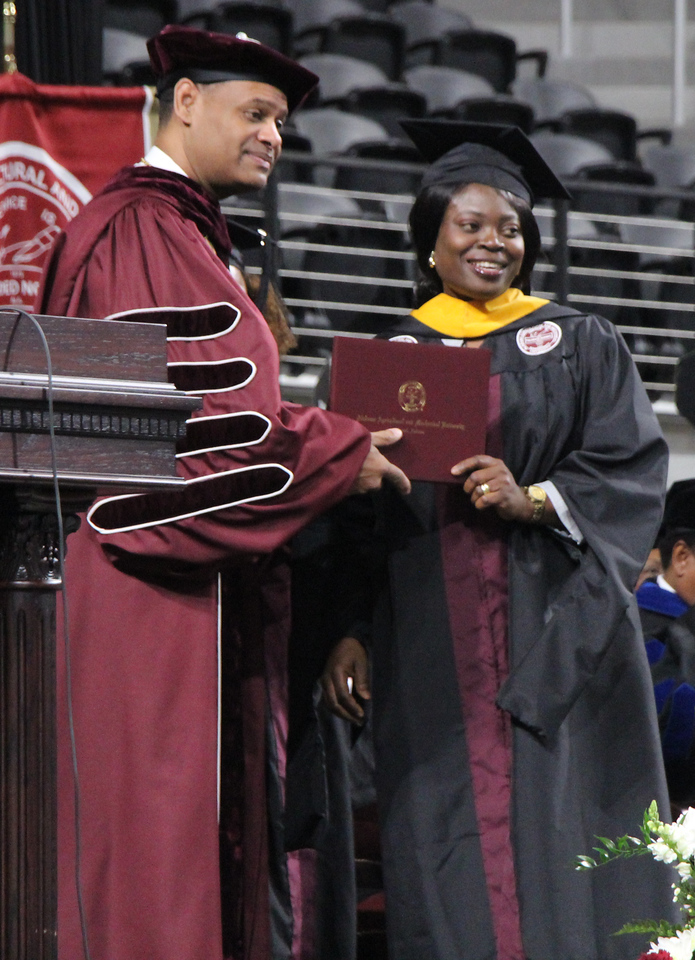 Candidates for graduation report to the AAMU Event Center with cap, gown and/or hood. Graduate and undergraduates will line-up alphabetically by academic college at the direction of the Commencement Marshals. GRADUATE Candidates must be in the line-up no later than 8:00 a.m. There will be no entrance to the line-up after this time. The Commencement Processional and Program will begin promptly at 8:50 a.m. UNDERGRADUATE Candidates must be in the line-up no later than 4:00 p.m. There will be no entrance to the line-up after this time. The Commencement Processional and Program will begin promptly at 4:50 p.m.
Below is a checklist to help you prepare for a happy and memorable event
Academic and Financial Requirements: All individuals who plan to participate in the graduation ceremony must meet all academic and financial requirements of the University. Please take whatever actions are necessary to ensure you meet those requirements for your participation in the ceremony.
Graduation Clearance Screen: Please check the Graduation Clearance screen to make certain that you are cleared in all areas prior to graduation. We cannot release your diploma if all four (4) areas do not indicate "CLEAR". There are no exceptions to this rule. The academic area will not show clear until after Final exams have been processed.

Financial Aid Questions: If you have questions concerning Financial Aid, they should be directed to the Financial Aid Office at (256) 372-5400; questions concerning Financial Services should be directed to that office at (256) 372-5202 or (256) 372-5203; and Career Development at (256) 372-8179.

Final Courses: Contact your department chair for any questions you may have concerning completion of your degree requirements. Students, who are not enrolled in their final courses, will not be given permission to participate in the ceremony.
Caps and gowns: Order your Caps & Gowns right away!

If you were unable to attend Grad Event and did not order your regalia, please contact the AAMU Bookstore to find out if there is still time to order regalia.

Graduation Attire:

Ladies – black dress or black skirt with white blouse and black shoes
Men – white shirt with dark tie, black pants and black shoes

Commencement mandatory: Candidates for graduation are required to attend the Commencement. An official excuse must be obtained from the Provost and Vice President of Academic Affairs if you are unable to attend, by completing and submitting a "Excuse From Commencement Ceremony Form".
Commencement practice:

All candidates for graduation (graduate and undergraduates) are to report to the AAMU Event Center for Commencement practice with the President, Provost and Vice President for Academic Affairs, Registrar and the Academic Deans. Please be on time in order that we may start promptly at 10:00 a. m on Thursday, May 4, 2023.
Graduate (Master's and Doctoral degree) students are to bring their hoods to the practice session.

The name cards that will be presented to the commencement announcer will be distributed at graduation rehearsal (please bring a valid I.D. to receive the name card) by the Registrar's Office Staff for Undergraduate Students and the Office of Graduate Studies Staff for Graduate Students. Please be sure to bring these items to the ceremony.

If you are unable to attend Commencement Practice, Undergraduate Students please contact Registrar 256-372-5254 and Graduate Students please contact Graduate Studies 256-372-5277.

Special Disability Needs: Participants with special disability needs during commencement should contact the Office of Academic Affairs at (256) 372-5275 no later than noon on Friday, April 21, 2023.
Diplomas: Graduates are advised that diplomas will be mailed after Commencement.

If you have any questions regarding the diploma distribution, please contact the Registrar's Office at (256) 372-5254.

Mailing Address: Please verify/update your mailing address via Banner Self-Service.
Again, congratulations on your great accomplishment. We look forward to celebrating with you!