Protocols for Commencement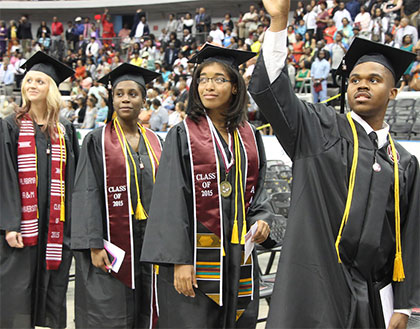 All participants, graduates and guests are expected to adhere to the guidelines outlined here.
Safety Measures
Mask/Face Coverings: Required for all graduates, participants and guests. Everyone entering the stadium will be required to wear a mask or face covering.
Physical Distancing: Physical distancing is highly encouraged for Guests. Graduates will be spaced apart to allow for practicable physical distancing.
Disinfecting: Chairs and bleachers will be disinfected prior to the ceremony.
The following AAMU Athletic safety protocols will be in place for all guests entering Louis Crews Stadium:
Clear Bag Policy: Guests must adhere to AAMU Athletics' Clear Bag Policy for entry into Louis Crews Stadium, permitting a small clutch purse (4 ½" by 6 ½") with or without a handle or strap, along with either a 12" by 6" by 12" clear tote bag or one-gallon freezer bag.
Metal Detectors: Guests are required to pass through metal detectors
All graduates and guests must adhere to Louis Crews Stadium's safety protocols. For a list of prohibited items, please visit AAMU Athletics game day policy.
Graduates
Graduates may NOT take purses or backpacks onto the field
Graduates are permitted to bring a small camera and/or a call phone that can either be left in their seat or placed in their pocket when crossing the stage.
Graduates may NOT bring alcoholic beverages, inflatable objects, umbrellas, balls, or any toys.
Graduates may NOT bring any liquids into the Stadium. Bottled water will be provided free of charge.
Guests
Guests are permitted to bring umbrellas in the event of light rain (must fit inside clear bag).
Guests are permitted to bring in one clear bag (no bigger than 4.5"x3.4"), a gallon zip lock bag, a seat cushion, a clutch or small purse, and a wallet. Prohibited items include backpacks, camera cases, diaper bags, oversized bags, large purses, or tinted plastic bags.
Guests are required to pass through metal detectors and asked to check their bags. Please be respectful to security personnel and allow additional time to enter the Stadium. Guest may enter the stadium two hours prior to the ceremony start time.
STAGE GUESTS
All stage guests will be required to wear face coverings.
Chairs will be six feet apart on stage.
There will be reserved parking for all stage guests.
Attire
All graduates are encouraged to wear comfortable clothing under their regalia. However, please be mindful that all graduates will be asked to remove or lift up their gown upon entering Louis Crews Stadium.
No heels are not permitted on the field at Louis Crews Stadium. Please wear flats or athletic shoes.
Special Disability Needs
Participants with special disability needs during commencement should contact the Office of Academic Affairs at (256) 372-5275 for assistance.
Seating for persons with disability will be on the first row home and visitor side of the stadium.
Invitations
Telephone essential guests early and then follow up with your personal invitations to the event at least two weeks in advance to include information concerning date, time, place, tickets (if required), parking, and accommodations.
Tickets
No, for Spring 2022 Commencement, tickets are not required.
Preparation for the Event
Arrive 90 minutes before the ceremony with your cap, gown and/or hood.
Graduate and undergraduates will line-up alphabetically by academic colleges at the direction of the Commencement Marshal.
Candidates must be in the line-up no later than 45 minutes prior to the beginning of the ceremony. There will be no entrance to the line-up after this time.
The Commencement Processional and Program will begin promptly 10 minutes before the start of the ceremony.
Behavior at the Event
The university commencement ceremony is a celebration and a reflective and reverent event for all involved. Please refrain from loud expressions of pleasure for individual graduates. Such expressions detract from the recognition due the next graduate in line. The audience is requested to stand and remain at their places during both processionals. As a courtesy to those around you and to our graduating students, please turn off all cellular devices during the ceremony. Please inform family and friends that air horns and other noise makers are strictly prohibited from use during the Commencement Program