Name Badges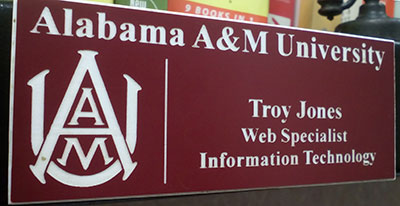 Alabama Agricultural and Mechanical University is operating under a new strategic plan entitled "Into the Future." Six major priorities have been identified to serve as the guiding framework for the goals, objectives, and strategies in AAMU's strategic plan. The six strategic priorities are listed below:
Enhance AAMU's Distinctiveness and Competitiveness
Strengthen, Structures, Operations and Systems to Promote and Support Organizational Excellence and Stewardship
Upgrade University Infrastructure and Facilities
Secure the University's Financial Future
Enhance the University's Image and Recognition
Enhance University Engagement through Expanded Outreach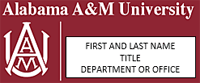 In line with Strategic Priorities 2 and 5, AAMU has implemented the use of name badges that are easily identifiable and easily read.
Procedure for Wearing Name Badges
All AAMU employees are required to wear name badges while on campus and attending special events. Name badges will be worn in an effort to provide a safe and secure workplace for all employees. In addition, it will enhance customer service here at AAMU.
Because the policy and procedures described herein are intended to provide for the safety, security and enhance customer service of AAMU employees, all employees are expected to fully comply with all procedures for wearing a name badge.
Note: If employees do not follow the procedures for wearing name badges, they can and will be reprimanded for being non-compliant.
Name Badge Holder Responsibilities
Do not lend your name badge to anyone.
Do not fold, bend pry open or mutilate your name badge.
Do not use your name badge improperly.
Do not leave your name badge unattended.
Immediately notify your supervisor if your name badge is no longer in your possession.
Immediately notify your supervisor of any difficulties or problems with any name badge.


Justification for the use of Name Badges
Name badges are being worn by units of the university to enhance the level of communication between faculty/staff and students and guests that they serve.
Lost Name Badges
Replacement Policy: Faculty/staff who lose their name badges will be asked to pay for their replacement. Payment ($11.95) will be received at the Cashier's Office, Patton Hall Rm. 105-A, prior to processing. Please bring the receipt to Human Resources and your request will be processed for a replacement name badge.
Exception: Replacement name badges for official change of job title will be ordered through Human Resources and paid for by the University.
End of Employment
Name badges are the property of the university and will be retained by the university when an individual terminates his or her employment or otherwise ends his or her association with the university.