Answering Progress Report Requests
You will receive an email requesting that you complete a progress report on students enrolled in your classes. Scroll to the email and select Click to Begin Entering Student Feedback. The link should open a page similar to the one below in your browser with a list of your class roster for each class you are teaching. Please, keep in mind that every system is not perfect. If you have switched class sections these changes may not be reflected in the progress report because of the timing of the update in Banner and the Progress Report request. Let the Bulldog Navigate Administrator know so that they can work on trying to assist in completing the report for the appropriate class.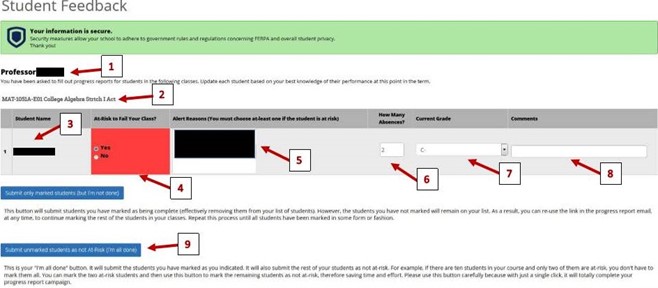 The Progress Report is addressed to you.
The Course Title, Course Number and Section number are listed here.
This is your class roster. (Students recently added may not be listed)
Only select "Yes" for all students who are at-risk of failing the class.

If a student is not at risk you do not have to select "No". You can leave it blank.

Select at least one of the prepopulated reasons the student is at-risk of failing. Examples would be "Excessive Absences" or "Failing Exams or Quizzes".
** Go to step 9
STEPS 6-8 ARE OPTIONAL
Indicate here if you would like the student, advisor, coaches and other individuals who receive the students alerts to know how many absences the student has had in your class.
Give the current grade in your class for the student.
Provide additional feedback to the student such as they may need to withdraw from the course or the student would greatly benefit from 2-3 hours of tutoring per week in this subject.
Once you have completed steps 1-5 and completed the Progress Report click the second blue button " Submit unmarked students as not at-risk".