Virtual Appointments
There are two ways you can provide Virtual appointments with Navigate through the use of Zoom.
Option 1: Set up Availability with one Zoom link so you can have the option to meet Virtually for all your Appointments with Bulldog Navigate.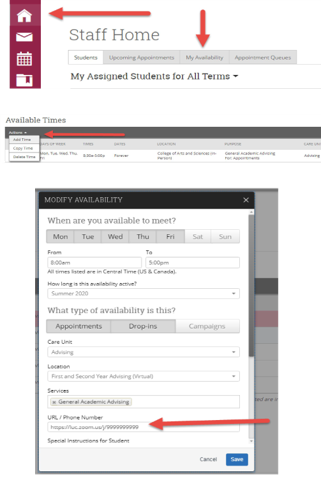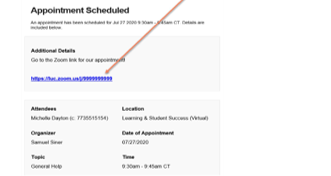 Step 1

Step 1: From the home page select My Availability.

Back to Top

Step 1

Step 2: If you plan to provide virtual appointment options to students in the URL field include your personal Zoom Link. It will show up on all confirmation and reminder email and text message communications to the student. We recommend using only one Zoom URL link for ALL appointments.

Note: For this option, you must use the waiting room feature in Zoom. Read about the Zoom waiting room here: https://support.zoom.us/hc/en-us/articles/115000332726-Waiting-Room

Back to Top

Step 1

Step 3: The Zoom link is sent in the confirmation email or text messages and reminder emails and text messages to students.

Back to Top
Option 2: Send email or text message through Bulldog Navigate with Zoom link to the student at the time of the appointment.