Master of Education in Pre-Elementary Education- Online
The Pre-Elementary Education Program offers coursework and field experiences leading to the Master of Education in Pre-Elementary Education (P-3) degree, along with teacher certifications (Class A).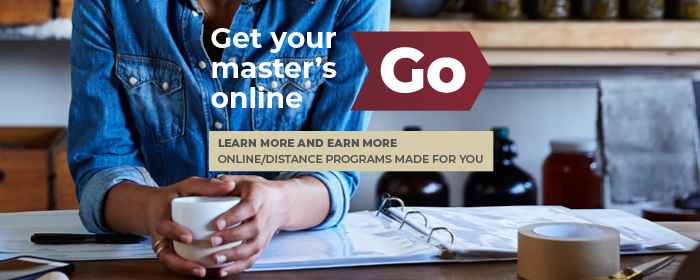 About This Program
This affordable program is delivered in a fully online format making it possible to study and work at your own pace.
Designed for current Pre-Elementary educators looking to continue growing their knowledge in the latest researched based curriculum.
The Department of Teacher Education and Leadership is committed to providing a quality educational program so that pre-elementary teachers can continue to make a positive and profound impact on students.

Please see the general graduate admission requirements.
Pre-Elementary Education (P-3), Class A
In addition to specific course requirements, applicants seeking admission to the program must:
1. Be admitted to Teacher Education. Admission to Teacher Education requires the applicant to:
a. Present evidence of having completed a baccalaureate degree in Pre-Elementary Education from a regionally accredited institution.
b. Present a copy of a Class B Professional Educator's Certificate.

DEGREE REQUIREMENTS
Candidates must successfully:
1. Complete all course work on the State-approved Checklist.
2. Obtain an overall GPA of 3.25 or greater based on a 4.00 system.
3. Pass a written comprehensive examination that covers the content of the program
4. Make application for certification through the Center for Education
Career Fields
​Pre-Elementary Teacher
Special Education Teacher
Childcare Center Director


Department Information
Visit the Teacher Education & Leadership website
Contacts Information
Dr. Dione Jordan-Hamilton

,

Faculty Advisor

dione.hamilton@aamu.edu
256-372-5074
Carver Complex North
Room 222

or

Dr. Richardo Hill
256-372-5504