Graduate Student Success Center
Thank you for visiting the Graduate Student Success Center (GSSC) and welcome! Our goal is to assist you in your journey as a graduate student at Alabama A&M University. The GSSC provides graduate students with a place to study, to network, and to engage in academic and professional experiences. The GSSC hosts academic and wellness workshops, graduate student learning communities, tutoring and a graduate lounge. Whether your program is online, face-to-face or a combination, we offer a variety of services to ensure your academic success including:
On-campus and online tutoring
Dedicated workspaces and meeting spaces on-campus
Academic workshops on-campus and online
Writing Center on-campus and online (including help and paper submission)
Other resources offered are:
Workshops (e.g. Thesis and Dissertation Writing Workshop)
Advisory committee meetings
Graduate Student Council meetings
Group project meetings
Study groups
HOURS OF OPERATION
| | |
| --- | --- |
| Monday - Thursday | 8:00 a.m. - 5:00 p.m. |
| Friday | 8:00 a.m. - 4:30 p.m. |
For graduate student organization meetings, please call 256.372.5686. Please allow 24 hours before scheduled meeting.
GRADUATE WRITING STUDIO
The Graduate Writing Studio provides one-on-one consultations to assist graduate students develop writing skills and techniques. The Center is supported by "The Write Place" Writing Center, located in Carver Complex North Wing (CCN), Room 125.
For more information on the Graduate Writing Studio, click here: Graduate Writing Studio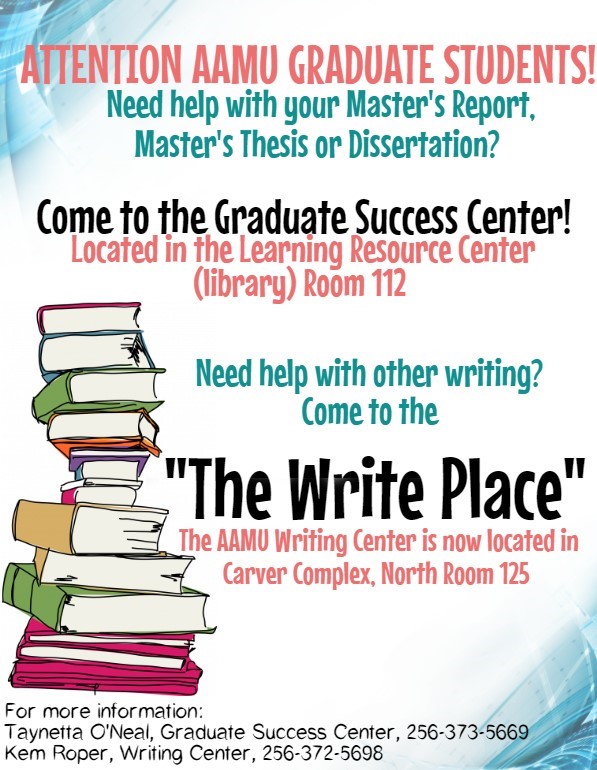 Graduate Tutoring Services
Our on-campus Graduate Student Success Center offers free writing assistance for Master's Research Reports, Thesis, Dissertations and other writing assignments. The free tutoring services are provided by appointments are strongly encouraged. Stop in with your textbooks, notes, and assignments and we will be happy to assist you!
GRADUATE STUDENT COUNCIL
The Graduate Student Council serves the unique needs of Alabama A&M University's graduate and professional students through a network of support and encouragement. We operate as a collective voice for our members, acting as the official graduate student representation in university affairs and the Student Government Association (SGA). We encourage all graduate and professional students to become active in our organization.
AAMU GSC is made up of an Executive Board (elected: President, VP, Treasurer, Secretary, Parlimentarian and SGA Senate Representative).
Workshops

ADDITIONAL RESOURCES