Bachelor of Arts in Communications Media
Graduates of the B.A. in Communications Media program are well-prepared to pursue careers in radio, television, film, and multimedia.
About This Program
The mission of the Communication Arts program is to produce competent communicators who are well prepared for careers in professional communication fields and successful in their pursuit of admission to and completion of graduate and professional programs of their choice. This mission is in harmony with the University mission, which promises to provide "baccalaureate...studies that are compatible with the times to all qualified, capable individuals who are interested in further developing their technical and scholastic skills and competencies."
Concentrations
Communications Media students may specialize in one of three areas: Production, Performance, and Operations.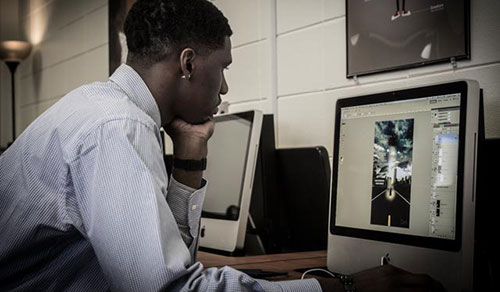 Production
Career Fields
A B.A. in Communications Media from Alabama A&M will prepare students for rewarding careers as broadcasters, reporters, editors, filmmakers, production personnel, and other communications professionals.