Concentration in Music Education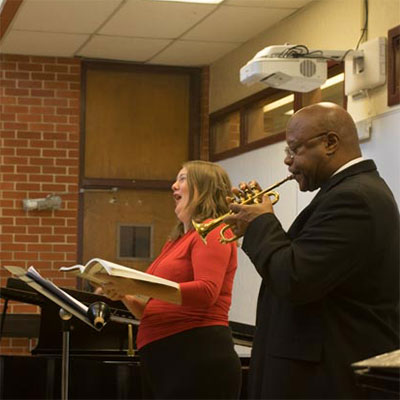 The Music Education Program at Alabama A&M University is one of the leading programs of its kind among HBCUs, and is committed to excellence in teaching at both the undergraduate and graduate levels. Our goal is to prepare music educators to meet the challenges of a dynamic, technologically-infused and increasingly diverse teaching landscape.
About This Program
Our Bachelor of Music Education Program features two areas of emphasis: choral and instrumental music. Undergraduate students develop as both music teachers and educational professionals through applied music study, ensemble performance, pedagogical course work, clinical experiences, and involvement in state and national music education associations. Completion of the program leads to Class-B Teacher Certification (Music, P-12).
Career Fields
Students completing this course of study successfully will have a Class-B Teacher Certification and will be well-prepared for a career in teaching music.