Child Welfare Title IV-E
Alabama A & M University uses various methods to educate social work students regarding child welfare services and careers in child welfare. The Child Welfare Title IV-E Project is designed to enhance the knowledge and skills of all social work students with a special focus on MSW students in the Family and Child Welfare Concentration and BSW students who are interested in working immediately at DHR in Child Welfare after graduation or plan to enroll in AAMU's MSW Program with a concentration in Family and Child Welfare. Additionally, the Project is designed to provide specialized training and workshops free of charge to DHR employees in child welfare and other behavioral health fields who provide services to children and families impacted by child welfare. Social Work faculty achieve the aims of the program by ensuring that students within the Family and Child Welfare concentration are exposed to up-to-date practice knowledge and skills. A major component of the Program is Dora's House (DH). DH is a child welfare training and simulation lab designed to support MSW and BSW students, DHR personnel, and social work personnel at child welfare agencies. The focus of DH is to allow participants to acquire and practice interviewing skills and home assessment skills. Students are exposed to a variety of factors that influence the well-being of children. These skills are augmented with child welfare mixed "virtual reality" services which are designed to develop interviewing and assessment skills of students.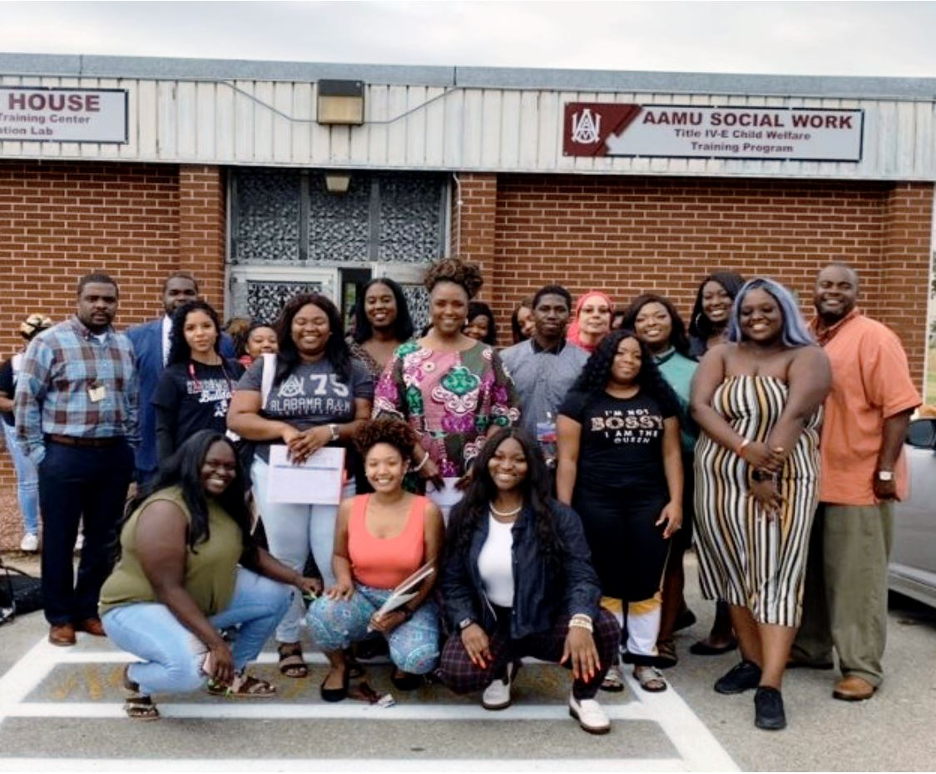 Another major impetus of the Child Welfare Title IV-E grant is to assist in preparing MSW students, social work alumni, and DHR workers to take their social work licensure exam. These preparation services include a self-paced social work exam preparation course and the annual spring social work licensure preparation workshop conducted by the Association for Advanced Training in Behavioral Sciences (AATBS). In addition to the above, special projects are implemented throughout the year and include an annual conference, workshops, webinars, participation in Social Work Advocacy Day at the State's Capitol in Montgomery, participation in the Social Work Annual Fall Conference, and the spring Alabama Consortium/Child Welfare meeting.
Funds are available for MSW students in the Family and Child Welfare concentration to apply for Graduate Assistantships. Beginning in the Spring 2022 semester, BSW Students who are interested in careers in the child welfare field will be eligible to apply for a Family and Child Welfare Leadership Award.
For more information, please contact Dr. Mildred Delozia, (256) 372-3302 or mildred.delozia@aamu.edu