Clubs & Organizations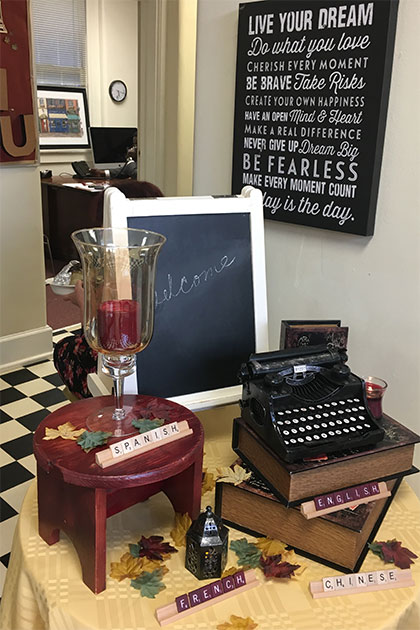 Seek to be different.
Seek ways to serve.
Seek your unique purpose and meaning.
The Department of English and Foreign Languages offers several organizations and clubs that provide you with opportunities to develop and showcase your unique skills. You will also build relationships and community with like-minded individuals.
The English Club
The Alabama A&M University English Club is an organization by students, about students, and for students. AAMU English Club members participate in reading groups, hold workshops and student-based forums, volunteer for community services such as tutoring and reading to K-12 students in our area. We even design our own custom-made club t-shirts!
Our club offers students a wonderful opportunity to express themselves and build their resumes. Although we are composed mainly of AAMU English Majors, non-English Majors are also invited to join!
For more information contact:
Robert L. Powell, Ph.D.
Faculty Advisor, AAMU English Club
robert.powell@aamu.edu
256-372-5382
---
The AAMU Poetry Club
AAMU's Poetry Club provides students with an outlet for expression through writing, spoken word, music, dance, and other expressions. The Poetry Club hosts several events each semester, such as open mic nights and poetry slam competitions. Our club combines writing, performance, advocacy, and community service. We meet twice a month and we're open to undergraduate and graduate students regardless of major.
For more information contact:
Pamela Manasco
Instructor
McCalep-McIntosh Hall Room 205
(256) 372-5397
---
The Spanish Club
The AAMU Spanish Club meets several times each semester reviewing Spanish vocabulary and engaging in conversations using what we have learned. In recent years, the Spanish Club has had many students to join the club and realize that having a conversation in a foreign language is not as tough as they imagined it would be. In fact, they have expressed feelings of pleasure being able to communicate with people of different cultural backgrounds.
For more information contact:
Koji Nishida, Ph.D.
Faculty Advisor, AAMU Spanish Club
koji.nishida@aamu.edu
---
The French Club
AAMU's French Club provides students with an opportuntiy to experience the French culture through various activities and conversation practice. The French Club meets several times during the semester. Students of all levels of French are welcome to participate.
For more information contact:
Brittany Massey Faculty Advisor, AAMU French Club brittany.massey@aamu.edu (256) 372-5389
---
Sigma Tau Delta
Sigma Tau Delta, International English Honor Society strives to promote high achievement in English language and literature in undergraudate, graduate, and professional studies. The Society provides cultural stimulation on college campuses and promotes exemplary character and good fellowship among its members. AAMU houses the Beta Nu Chapter of Sigma Tau Delta, International English Honor Society.
For more information contact:
Charlotte Teague, Ph.D. Faculty Advisor, Sigma Tau Delta charlotte.teague@aamu.edu
Tracy Gholston, Ph.D. Faculty Advisor, Sigma Tau Delta tracy.gholston@aamu.edu