Clubs & Organizations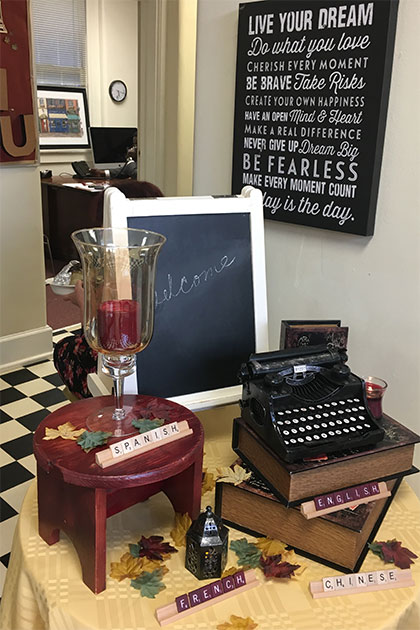 Seek to be different.
Seek ways to serve.
Seek your unique purpose and meaning.
By getting involved in an EFL organization or activity, you'll learn more about yourself and success as you learn how to do what you love to do.
The English Club
The Alabama A&M University English Club is an organization by students, about students, and for students where AAMU English Majors and other students can take pride in showing their true colors on our campus. This is done in our club through several student-based activities. These range from designing and wearing our own custom-made club t-shirts, reading groups, workshops and student-based forums in our meetings as well as community services such as tutoring and reading to K-12 students in our area.
Our club offers students a wonderful opportunity to express themselves and build their resumes through their love of reading, writing and critical thinking as English Majors and AAMU students. Although we are composed mainly of AAMU English Majors, non-English Majors are also invited to join us.
As the faculty advisor, please contact me anytime with questions and/or concerns about how I can better serve you in the future progress of YOUR AAMU ENGLISH CLUB. Thank you.
Robert L. Powell, Ph.D.
Faculty Advisor, AAMU English Club
robert.powell@aamu.edu
256-372-5382
The AAMU Poetry Club
AAMU's Poetry Club provides students with an outlet for expression through writing, spoken word, music, dance, and any other artistic talents held by its members or students attending its events. The Poetry Club hosts several events each semester, such as open mic nights and poetry slam competitions. It combines writing, performance, advocacy, and community service. The organization meets twice a month and is open to undergraduate and graduate students regardless of major.
Jessica Temple, Ph.D.
Faculty Advisor, AAMU Poetry Club
jessica.temple@aamu.edu
101-C New Classroom Building (Parker Annex)
931-447-8208
The Spanish Club
The AAMU Spanish Club meets several times each semester reviewing Spanish vocabulary and engaging in conversations using what we have learned. In recent years, the Spanish Club has had many students to join the club and realize that having a conversation in a foreign language is not as tough as they imagined it would be. In fact, they have expressed feelings of pleasure being able to communicate with people of different cultural backgrounds.
Koji Nishida, Ph.D.
Faculty Advisor, AAMU Spanish Club
koji.nishida@aamu.edu
AAMU Writers' Harvest
The Writers' Harvest is a 20-year-in-the-making event hosted by the Department of English and Foreign Languages. Writers' Harvest initially began as a program with Share Our Strength (SOS), one of the nation's leading anti-hunger, anti-poverty organizations. Since then, the Writers' Harvest has raised over $12,000 dollars and over 4000 pounds in food donations to support those in need.
This event takes pride in serving the community and providing a platform for creative expressions for the Alabama A&M University family and the North Alabama community. Participants and viewers have fun reading and reciting literary works, hearing and playing music, and celebrating and partaking in dance, all in efforts to hunger awareness and food as well as monetary donations for the Food Bank of North Alabama. It is the commitment of Alabama A&M University to increase the awareness and appreciation of the literary arts of all its students as well as to showcase to the community the talent and heart of the A&M student.
This event is always open to the public.
Kiietti Walker-Parker
Committee Chairperson
kiietti.parker@aamu.edu
256-372-5698