Virtual Lines
Virtual Lines let you sign into a virtual line using any computer, smart phone or a campus kiosk.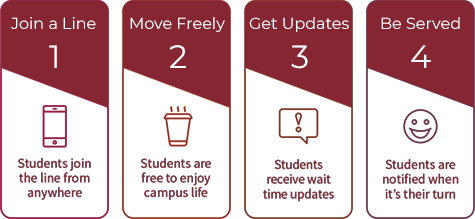 Virtual Lines will:
Send you a personalized text alert or phone call when it's your turn to see a staff member on campus.
Opens each day at 8:00 a.m. If you enter a queue prior to 8:00 a.m., the system will not add you until it is activated. Virtual Lines is closed on weekends and holidays.
Send you an estimated wait time (estimates vary according to the number of people in line ahead of you).
Allow you to ask for more time if it does not fit your schedule.
Alert you when you are 15 minutes away from your arrival time.
Check your wireless plan with your service provider as standard text rates may apply.
During peak registration periods, the Virtual Lines web sites will close when lines reach maximum capacity for the day.
NOTE: Toward the end of each business day please arrive on campus no later than thirty (30) minutes prior to closing, regardless of your estimated Virtual Lines time. Example: If your campus closes at 5:00 p.m. you MUST be in the Student Services area no later than 4:30 p.m. to guarantee your place in Virtual Lines.
---
Join a Virtual Line.. Wait Where You Want..
SMS Text

Text "AAMU FA" or "AAMU Registrar" to (256) 445-8329 to join the virtual lines by text message.

Online form

Kiosk

Visit the kiosks located in the Financial Aid and Registrar's Office

Download the Qless App
Text Commands
L - Leave the queue

Use this command when you need to exit a particular queue.

S - Status update

Use this command when you want an update of your wait time and place in line.

M# - More time in XX minutes

Use this command to request additional time if you can't be in the area. (Max 2 times)

H - Help

Use this command to get additional assistance with QLess.

W - Switch

Use this command to switch from text to voice call updates.

N# - Notify me in XX minutes

Use this command to let QLess know when to send an alert.