AAMU President Forms Alum Advisory Council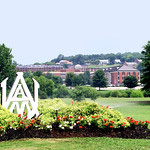 March 03, 2022
Group Will Provide Needed Assistance to President
Huntsville, Ala. ---- To enhance student development, as well as to build alumni support for planning and carrying out his initiatives, Alabama A&M University President Daniel K. Wims has announced the formation of a 15-member AAMU Alumni Advisory Council.
The Alumni Advisory Council—comprised of entrepreneurs, major donors and seasoned members of the corporate community—will engage alumni in the development of long-range planning and the means through which the alumni sector can help meet University needs.
Another charge of the Alumni Advisory Council centers on increasing alumni involvement in the recruitment of quality students, the search for meaningful internship opportunities, and the career placement of graduates.
Finally, Wims has charged the new Council with not only identifying development needs, but also with helping to fund and sustain support of those identified areas in need through various fundraising activities.
The members of the AAMU Alumni Advisory Council include the following individuals:
Mr. Jamal Ali, Account Director, Burrell Communications
Mrs. Karla Baker, General Manager, Epcot (Disney)
Ms. Henrika Buchanan, Senior Vice President, National Practice Consultant
Ms. Dorothy Brice, County Extension Agent, Member of Normal Legacy Society
Mr. Julian Green, Senior Vice President, Communications and Community Affairs, Chicago Cubs
Mrs. Sarah Hrobowski, Retired Educator, Mobile, Ala.
Mr. Russell Jackson, Business Banker, Fifth Third Bank
Ms. Sandra Lyles Jackson, Logistics Management Specialist, U. S. Army Material Command
Mr. Ronald McIntosh, Boeing Retiree, Member of Normal Legacy Society
Mr. Alex Okeke, Retired, Department of Transportation
Mrs. Melissa Presnell, Managing Partner, Presnell and Presnell, LLC
Mr. Jermaine Ralph, Insurance Executive, Ralph and Associates
Mrs. Alice Sams, Program Director for Special Projects, Madison County Commission
Dr. SanYvette Williams-Foy, Veterinarian, N-Motion Home Veterinary Care
Ex Officio:
Mrs. Sandra S. Stubbs, Director of Alumni Affairs
Dr. Allen P. Vital, Interim Vice President of Marketing, Communications & Advancement
Dr. Roderick Dewayne Watts, University Trustee
###