BHM, AAMU Focus on Health and Wellness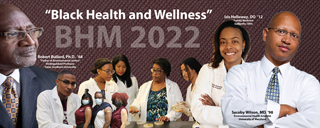 January 31, 2022
Coming Soon: "The Father of Environmental Justice"
This year's theme for Black History Month—"Black Health and Wellness"—takes a look at how American healthcare has often underserved the African-American community, according to the Association for the Study of African American Life and History (ASALH). The Association was founded by Carter G. Woodson in 1915.
Alabama A&M University has provided the academic fundamentals to hundreds of doctors and other members of the health professions for more than a century. A case in point is Dr. Sacoby Wilson, a 1998 AAMU graduate who directs the Center for Community Engagement, Environmental Justice and Health at the University of Maryland, College Park.
The list of doctors continues to Gallipolis, Ohio, where Dr. Isis Holloway, a 2012 graduate, specializes in family medicine for the Holzer Health System. Finally, continuing to name just a tiny fraction of the hundreds of Normalites making an impact throughout the globe, is Dr. Robert Bullard, Class of 1968, called "the Father of Environmental Justice" by colleagues, and distinguished professor at Texas Southern University.
As the COVID-19 pandemic has recently shown, a widespread disparity of access to quality healthcare negatively impacts outcomes for blacks and other minorities. For African-Americans, the root of the problem goes deep, and extends back centuries. Beginning with slavery, a lack of economic opportunity often put medical care out of reach for many African Americans.
Bullard will make a Black History Month presentation for AAMU's Department of Community and Regional Planning on February 25, via Zoom at 10 a.m. The noted educator, administrator and activist will focus on "Black History is American History." For additional information, contact the Department of Community and Regional Planning at (256) 372-5426.