AAMU Mourns the Death of Alum, Publisher Bill Cox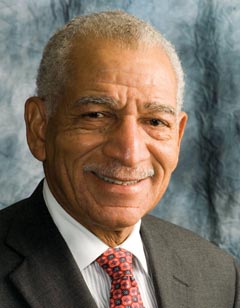 March 25, 2022
Former Trustee, DIVERSE Magazine Publisher Dies
The AAMU Family is mourning the death of devotee, alumnus and former trustee William E. Cox.
Cox served as president and co-founder of Cox, Matthews and Associates Inc., a Fairfax, Virginia, firm specializing in publishing, satellite television production, training, education, and consulting. He was also president and managing editor of the company's bimonthly national news magazine, Diverse: Issues in Higher Education.
Cox was an established authority on developing policy and procedures for counseling services. He conducted higher education programs for the U.S. Army and the U.S. Air Force.
A former member of the advisory board of the National Council for Education and Human Development at The George Washington University, he served as chair of the Lifelong Education Advisory Board at Harvard University and the American Counseling Association Foundation. Cox was a life member of both the NAACP and Kappa Alpha Psi Fraternity.
He earned a doctorate in higher education administration from The George Washington University, two master's degrees (in counseling psychology and in public administration) from Ball State University, and a bachelor's degree from Alabama A&M University in 1964.