AAMU Holds Event Center Groundbreaking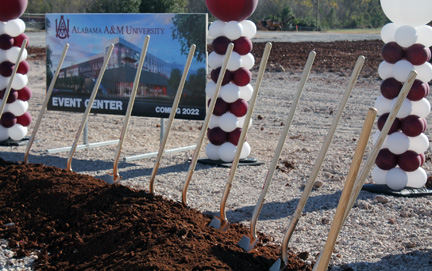 November 19, 2020
Transforming the Landscape of North Huntsville
About 100 persons attended a 2 p.m. groundbreaking ceremony Thursday, November 19, for a new Event Center at Alabama A&M University. PHOTOS (Also see VIDEO by Electronic Media Communications)
Attendees heard enthusiasm and praise for the 6,000-seat facility that will be the venue for a wide range of sporting events, University ceremonies, and numerous other activities offered by the campus and the community.
President Andrew Hugine, Jr., said the construction of the new center represents the establishment of the best facility for the world's best students. Hugine's enthusiasm was matched by Dr. Jerome B. Williams of Birmingham, Ala., president pro tempore of the AAMU Board of Trustees, as well as state and local officials, including Alabama State Representatives Laura Hall and Anthony Daniels; Commissioner Violet Edwards, Madison County Commission, District 6; and Huntsville City Councilman Devyn Keith.
President Pro Tempore Williams of Birmingham has praised the University's leadership for the manner in which it addressed numerous obstacles, among them COVID-19, in addition to simultaneously planning for the future.
"When I first joined this board a number of years ago," recalled Trustee Williams, "I could not have imagined this kind of thing happening with the challenges we faced at that time, and they were many."
Williams stated that he is proud to be a part of the team and to be a part of an outstanding board of trustees.
With an invocation by Pastor Troy Garner of Fellowship of Faith Church, additional greetings were provided by AAMU Provost Daniel Wims, who noted the possible future activities that could be hosted in the facility; AAMU Alumni Association President Mary Jones Moore; Athletics Director Bryan Hicks and SGA President Japhe Jelks. AAMU students also were represented by Rakia Bates, Miss Alabama A&M University, and her court (Miss Senior, Kennedi Lawson; Miss Junior, Latavia Upshaw; Miss Sophomore, Emilie Harrell; and Miss Freshman Makayla Miles), and several student athletes.
Turner Construction Company announced a month ago that construction on the 132,000-square-foot facility was underway. The new space will include an arena with a 6,000-person capacity, locker rooms, training rooms, an Alabama A&M athletic Hall of Fame, and a kitchen with the capability to provide meals for all events on campus.
The arena will host sporting events such as basketball and volleyball games, commencement exercises, and other university functions.
President Hugine called AAMU "an economic development engine" in the area. He has also noted that the center, which also will include the AAMU Athletic Hall of Fame, will "transform the landscape" of North Huntsville.
Turner is the construction management agent for the project. Under the CMa approach, the construction manager serves as an extension of the project owner's staff and is responsible for construction management services, including advising, coordinating, and inspecting project design and construction, and competitively bidding the various construction components to trade contractors.
Turner will work with architecture firm Nola Van Peursem and engineering firms Moody Nolan (arena consultant); The EE Group (electrical engineer); Mims Engineering (mechanical/plumbing/ fire protection); Johnson and Associates (civil engineer); LBYD (structural engineer); Camacho (food service); and Bostick Landscape Architects. The project is expected to be completed in the fall of 2022.