Gaming Association Reaches out to AAMU Upward Bound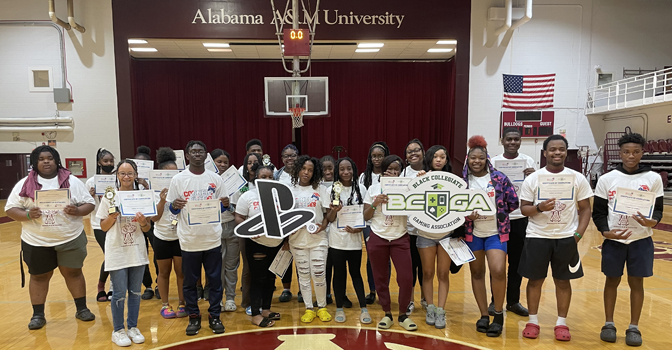 August 01, 2022
AAMU, BCGA Form New Initiative
The Black Collegiate Gaming Association (BCGA) kicked off summer 2022 with education and gaming all in one by teaming up with seven (7) historically black colleges and universities (HBCUs) for the Corners to Colleges HBCU program. Alabama A&M University was one of the seven charter institutions. AAMU Upward Bound Program also had an opportunity to participate in the inaugural initiative.
BCGA was established to provide education, access, and career opportunities in the gaming and Esports industry to Black people and women of color. BCGA offers virtual and on-campus curriculums; inter-collegiate video gaming competitions; internships and post-graduation job opportunities; team building and leadership training; professional development and networking events; scholarships and mentorships; and on-campus Esports and gaming labs.
Founder and Chairwoman Keshia Walker launched BCGA in May 2020 after more than 20 years of running successful celebrity events and experiential marketing firms. She is credited as being the first Black woman to enter the male-dominated field of collegiate gaming and Esports.
Walker expressed excitement about bringing Corners to Colleges to "deserving and amazing high school students" and "changing lives and educating hundreds." Walker, a Florida A&M University alum, is working to diversify the corporate gaming and tech industry.
The AAMU Upward Bound students were extremely pleased with every aspect of the program and opportunities within the gaming industry, according to Janae McDowell, director of AAMU's Upward Bound Program. "Our program is always looking for pioneering ways to educate, empower and engage our participants, and the Corners to Colleges Program proved to be a bonus to our summer program and accomplished the same goals and objectives," commented McDowell.
To be chosen for the Corners to College HBCU initiative, students must have a 2.5 or higher GPA, and two letters of recommendation from a teacher/guidance counselor and a community representative or non-profit organization. This initiative was sponsored by Sony PlayStation, HyperX, Intel, Google Play, Lenovo, Staples and GameStop.
For more information, visit cornerstocolleges.org.