Day of Service, Day of Impact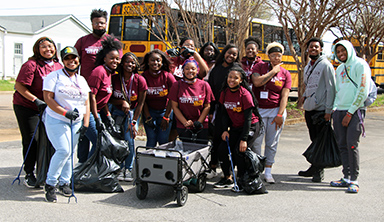 April 03, 2023
Day of Service, Day of Impact
Alabama A&M University students, faculty, staff and community volunteers took the University motto--"Service is Sovereignty"--to heart Saturday, April 1, when Service and Learning staffers--facilitated by Monica Clarke, with assistance from staffer Deborah Hill--sent hundreds of student volunteers on assignments throughout the county. ----
PHOTOS
A welcomed addition to classroom learning, the " Day of Service" event allows students hands-on service to those in need and to place in action the AAMU motto. The intent, noted Hill, is to partner with community stakeholders and "to make a positive impact" on the surrounding communities, while also allowing students to network with community leaders.
"The purpose of Day of Service is to meet and work with leaders, their agencies, and provide service opportunities for AAMU students to offer assistance to those on campus and in the local communities," Hill explained.
Listed among the project sites were five Title I schools, such as Rolling
Hill
s Elementary School,
Martin Luther King, Jr. Elementary School,
Montview Elementary School, McNair Junior High School and Dr. Mae Jemison High School.
Other project sites for the AAMU Day of Service AAMU were RiahRose Home for Children, Huntsville Botancial Gardens, Land Trust of North America, Manna House, Casa, Optimist Park, Harris Home for Boys, The Legacy Center, Winfred Thomas Agricultural Research Station (AAMU Farm) and AAMU's Knight Center, Elmore Buildng and Normal Hill Student Apartments.
Partnerships/ Sponsors for Day of Service:
Huntsville Utilities
Huntsville Green Team
Early Works
Highlands Elementary School P.T.A
Art City Institute& Foundation
Lakeside United Methodist Church
Restoration Church
St.Luke Baptist Church
ETA Phi Beta Sorority, Inc.
Omega Psi Phi Fraternity, Inc.
Lakewood Church of Christ
Huntsville Alumnae Chapter of Delta Sigma Theta Sorority, Inc.
Alpha Phi Alpha Fraternity, Inc.
Alpha Kappa Alpha Sorority, Inc.
Kappa Alpha Psi Fraternity, Inc.
Alabama A&M University Alumni Chapter
Society of Professional Women
United Women of Color
RUF( Reformed University Fellowship)
Baptist Student Union (UAH)
Zeta Phi Beta Sorority, Inc.
Mizpah Chapter No. 37 Order of Eastern Star