Public Turns up for WTARS Field Day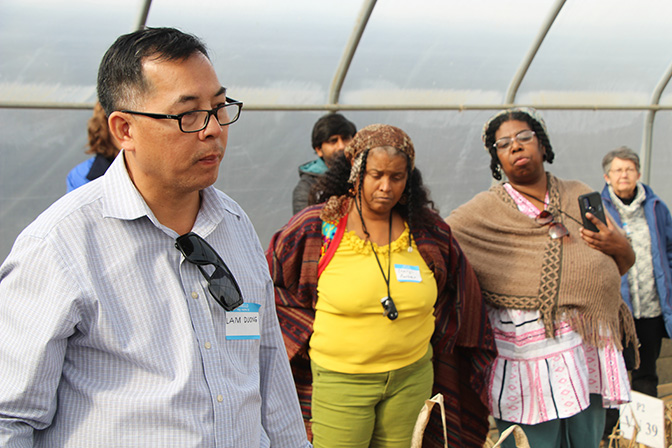 January 30, 2023
Workshop Info Well Received by Diverse Attendees
Tips to achieve quality production of stevia and turmeric was the focus of a recent workshop held on Alabama A&M University's Winfred Thomas Agricultural Research Station in Hazel Green, Ala. Participants not only received the latest research from specialists, but they learned the various ways to achieve growth of the crops in north Alabama soil and climate. PHOTOS
Coordinated by Dr. Rao Mentreddy with able assistance from colleagues and students, the Stevia & Turmeric Field Day & Workshop on Saturday, January 28, successfully brought useful information to the public, expanded community outreach in keeping with AAMU's 1890 land-grant mission, in addition to extolling the significant benefits of stevia and turmeric.
The Research Station serves as a hands-on platform for talented specialists carrying out studies related to animal science, plant and soil science, environmental science, forestry and other disciplines. Conducive for all external field research, "The Farm" is an ideal setting to delve into research related to adaptability and plant genetics. Additionally, the pastoral setting is "a public space" that has long drawn birdwatchers and other nature enthusiasts.
The workshop opened with remarks from Dr. Denis Ebodaghe, the national program leader for NIFA-AFRI, a USDA unit, along with Dr. Crystal Kyle, biological science specialist. Attendees also heard from ACES Associate Director Andrea Morris and Dr. Wubishet Tadesse, chair of AAMU's Department of Biological and Environmental Sciences.
During the 90-minute session on stevia, Dr. Mentreddy and Dr. Bipul Biswas of Fort Valley State University discussed stevia production and current research at AAMU and FVSU. Following a tour of turmeric research plots and a demonstration of turmeric harvesting, attendees received information on production and marketing from a growers panel.
Several research articles and other materials were distributed. For additional information about upcoming WTARS events, contact Dr. Ernst Cebert, Research Station manager, at ernst.cebert@aamu.edu or call (256) 929-2036.
- J. Saintjones