Extension Staffers Keeping Busy Summer Schedule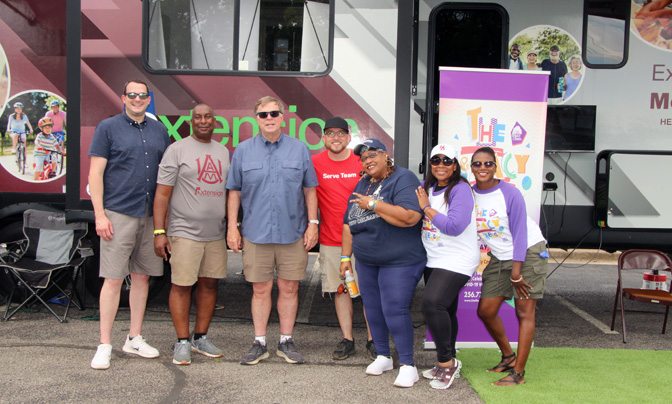 June 28, 2022
Full-Throttle: Teaming with Several Local Organizations
As the key outreach component for the land-grant function of Alabama A&M University and Auburn University, the Alabama Cooperative Extension System (ACES) has been going full throttle into the summer session. In addition to providing the traditional research-based programs aimed at improving quality of life and economic well-being, staffers have teamed with several local organizations to carry out their overall mission.
Alabama Extension at AAMU, in particular, offers an added focus on the needs of urban and suburban residents. In June 2022, the AAMU-based Extension staffers participated in the diverse projects of various nonprofit organizations around the Tennessee Valley, many directed by AAMU alumni.
For instance, staffers participated in the Annual Celebrity Kickball Tournament June 4 sponsored by The Legacy Center at Calvary Hills community recreation center, where they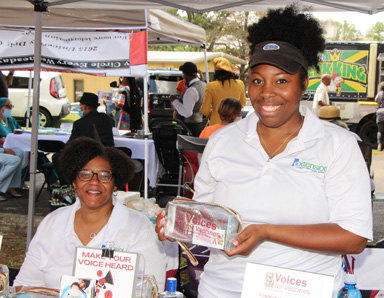 competed against other nonprofits representing churches, local organizations, governmental agencies and other entities. Another Legacy Center community event supported by Alabama Extension at AAMU brought fun, games and information to a community in southwest Huntsville.
As part of Juneteenth activities at Lakeside United Methodist Church, Extension staff members (right)-- Dr. Tamara Warren, health and nutrition specialist, and Shanetria Orr, Urban Regional Extension Agent, Morgan County--set up a tent to provide relevant information to hundreds of attendees on a hot Saturday. Long story short, there's hardly a local activity that Alabama Extension at AAMU cannot use to facilitate the land-grant mission.
ABOVE: At Annual Legacy Center Kickball Tournament (l-r): Matt Mandrella, Huntsville music officer; Dr. Allen Malone, Extension director, Alabama A&M University; Huntsville Mayor Tommy Battle; J. McKenzie, Generosity Foundation; Dee Johnson, president, Northwood Resident Council; Chanda Crutcher, president/CEO of American Senior Assistance Programs, Inc. (ASAP).