AAMU Grounds, Construction Crews "Spring" into Action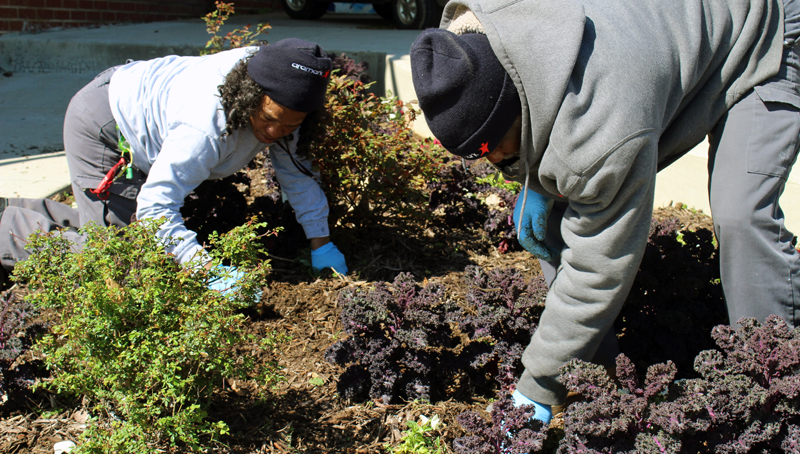 March 27, 2020
Tapping into a seasonal creativity
While most students, faculty and the lion's share of staff are testing the limits of home Internet speeds because of Coronavirus 2019, there are other groups, also comprised of Alabama A&M University loyalists and diverse teams, who are carrying on their assignments throughout every inch of the campus.
They are ZOOMing over a broad band of massive lawns; edging miles of curbs; effortlessly streaming their way around construction, electrical and painting crews; shutting doors to empty rooms and opening others to a certain new future—all in line with the optimism found every spring on "The Hill." (See SLIDESHOW)
Among those special groups are two very busy groundskeepers, and they refer to themselves as, although in slight murmur, "the real A&M." Stacey Baker and Michael Jones can be found removing weeds from a flower bed on the east side of the Ralph H. Lee Student Center. They are on a definite mission, and their latex-covered hands dart between recognizable shrubbery and exotic foliage like the element on an old IBM Selectric typewriter.
Further east of Baker and Jones, another crew is working at the old Frank Lewis Gymnasium. To the west of the human weed eaters are several squads on The Block. To the south of our landscapers are a crew positioned at the juncture of the James I. Dawson Building and the business school parking lot.
Still, other teams are stationed inside and outside of the R.D. Morrison Fine Arts Building; the intersection of Meridian and Chase; the new residence hall; the parking lot in front of the Knight Complex; as well as in Patton Hall, where painting in earnest takes place.
Indeed, it was just days ago that First Lady Abbiegail Hugine paid a brief campus visit to check on the progression of upgrades scheduled for Edward S. Johnson Little Theatre. Last year, AAMU emerged as a Cluster 1 winner of $50,000 in the national Home Depot "Retool Your School" Campaign.
Thus, the monies won from that drive are now being put to use to substitute the deteriorating stage in the theatre with eco-friendly bamboo flooring. Moreover, the old batten used to support scenery and electrical equipment are being replaced with 1.5-inch nominal diameter steel pipes. Finally, the house floor will be re-carpeted, ADA handrails will be placed at stair locations, and LED recess floor lights will be installed along descending house steps.
Undoubtedly, there is much taking place on a campus all but fully closed due to Covid-19. However, seemingly it was in the plans all along. Back on January 3, President Andrew Hugine, Jr., informed the University community that among the new initiatives were increases to the University endowment to the tune of $1 million per year; work toward erection of an event center and welcome center; renovations to Frank Lewis Gymnasium, Bibb Graves Hall, the R.D. Morrison Fine Arts Building, and bringing the completed McCalep Vocational Building into full operation. Those initiatives have met their spring.
In the midst of storm clouds the world over, AAMU is still finding a silver lining.
- Jerome Saintjones
Above: Stacey Baker and Michael Jones clean a flower bed in the rear of the Ralph H. Lee Student Center.
Main Webpage: First Lady Abbiegail Hugine checks progression of renovations at the Edward S. Johnson Little Theatre (R.D. Morrison Fine Arts Building)